Sometimes, what you don't know can kill you—like not knowing about proper nutrition and handwashing, safe sex practices and maternal health support. Other times, what you don't know can severely disempower you—like not knowing where to turn for help after you have been raped.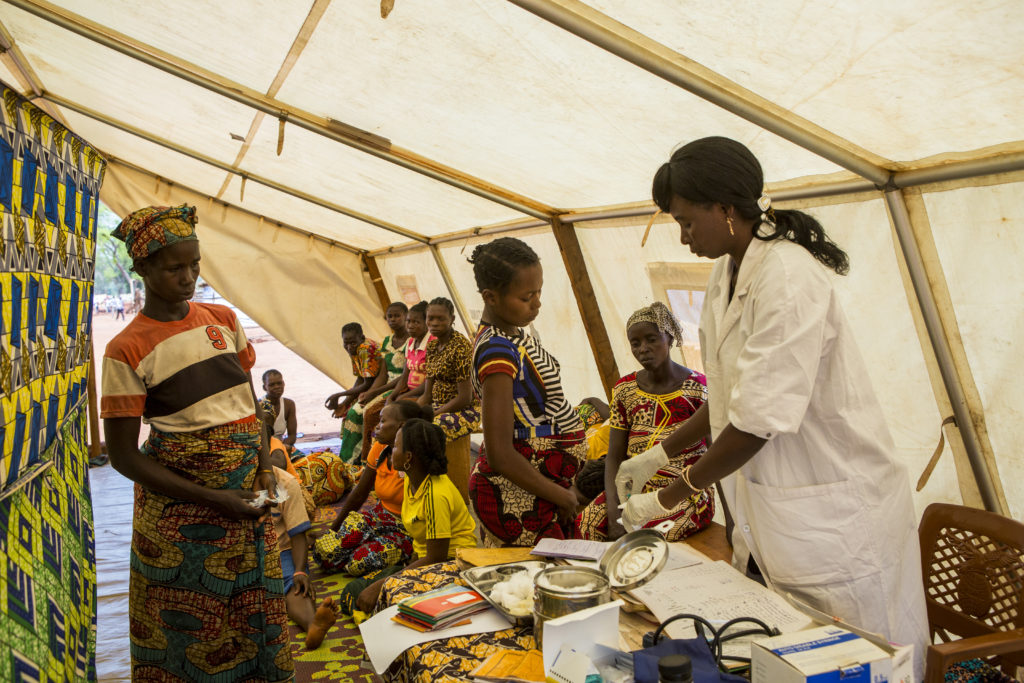 When it comes to gender-based violence (GBV), women and girls are left with more than physical pain and psychological wounds. They are often left in the shadows, feeling isolated, confused and full of shame. For them, says Marie Chantal Gboze, International Medical Corps' Protection Coordinator in the Central African Republic (CAR),
"Knowledge is the light that can guide them out of the dark."
In CAR and across the globe, International Medical Corps is a first responder to conflict and disaster. But at our core, we also are a community of learners and educators, helping to expand the knowledge and skills that humans need to survive and thrive amidst the most extreme circumstances imaginable. CAR is today one of the world's poorest countries, and home to millions of refugees and internally displaced persons fleeing armed conflict. Living through conflict and displacement is distressing for anyone—but women in highly unequal societies often have the added stresses of sexual violence, physical and emotional abuse from their partners, and social, economic and political marginalization. They may also lack understanding of their human rights.
In December 2018, International Medical Corps opened two new women-friendly centers in CAR—one in a displacement camp, and one in the urban center of Bria—for refugee and other vulnerable women. "We noticed something very interesting right away," says Marie Chantal. Even before the centers opened, women began showing up. On the morning of the opening, around 100 women came to learn about the services offered. By the end of the day, roughly 15 women remained, waiting to speak with International Medical Corps' GBV case manager.
The women in the community "go through many, many oppressions in their families and their environment," says Marie Chantal. Busy all day providing income and care for their families, they do not have time or space to rest and feel safe. They told our staff that they often felt helpless when at home alone, abandoned by their husbands or having lost them to violence. Judging by the many who show up day after day at our centers, the women have felt starved for support, community and resources. Women in the community can turn to staff at the women-friendly centers for health services related to GBV, as well as for psychosocial support and case management.
The centers are designed to help women feel secure and relaxed, and to provide a place where they can learn how to take care of themselves. Of course, by coming together, women also learn from the others' experiences—and that they are not alone. In addition to engaging in such activities as baking, making soap and knitting, women can access information about reproductive health, water and sanitation, nutrition and much more. This access to information is a "kind of psychosocial support in itself," says Marie Chantal, "because it empowers women to have confidence in themselves and seek services when they experience GBV."
Such knowledge can change one's perspective. As Marie Chantal points out, a woman may see something as "normal"—such as believing her husband has a right to beat her—based on her cultural context and social conditioning. But when she learns about her rights, she can remove herself from harmful situations or seek help when needed. Marie Chantal has seen firsthand, over and over, how knowledge also "helps women recover" by addressing their feelings of hopelessness. The women in our women-friendly centers in CAR are building resilience through access to resources and services, and the opportunity to support one another.
As we continue to build skills and knowledge in the midst of providing lifesaving experiences, it remains critical that we ourselves keep learning. The field of GBV is relatively new and evolving. To ensure that International Medical Corps' local staff can provide quality service in line with global GBV standards, we provide ongoing training. Our staff in CAR attest to their radically improved knowledge around GBV—a topic on which they felt very much in the dark before. And with each light turned on, the horizon grows ever brighter for the women of CAR.
International Medical Corps provides lifesaving services in CAR to internally displaced people, refugees and conflict-affected host communities in three regions, and remains one of the few international organizations with a presence in the northeastern region. International Medical Corps began working in CAR in 2007 by providing services to Sudanese refugees in the Haute Kotto region. Since then, International Medical Corps' portfolio in CAR has expanded to include health-systems strengthening and service; nutrition; water, sanitation and hygiene (WASH); and child protection.