When COVID-19 arrived in Somalia in 2020, it joined a multitude of challenges faced by the nation. Increasingly unpredictable weather patterns and desert locusts are devastating food supply in a country where 2.6 million people are internally displaced. On top of that, nearly a year into a deadly pandemic, violence has soared following an election crisis.
The first case of COVID-19 was confirmed in the country on 16 March 2020. Today, almost a year later, Somalia is grappling with a second wave of the virus. According to reports, cases increased by 52% in February 2021 compared with the previous month. Though countless countries find themselves in a similar situation, Somalia has only two health workers per 100,000 people and only 15 intensive-care unit beds for a population of nearly 16 million—a level among the lowest in the world.
In a setting like this, community health workers (CHWs), educators and mobilisers with basic health training can profoundly affect health and well-being. This is why International Medical Corps trains CHWs in Somalia and other countries while raising awareness about the valuable contribution made by these often-unsung frontline heroes.
Because CHWs work in their own communities, they are known to the people they serve. Put differently, a CHW is a familiar face—often a neighbor or a friend—who form a link between health facilities and people in need. In this sense, there is often a pre-existing element of trust between CHWs and the women, children and men who need their help.
There are several other reasons why CHWs are essential. For example, access to healthcare is a very real problem for people living in poverty. Barriers such as costs, transport and, sometimes, the stigma associated with certain conditions mean that sick people can't access the help they need. CHWs remove some of these barriers by shifting the onus. Instead of asking people with little or no means to show up to a clinic—often located many miles away—CHWs come to them. During home visits, CHWs identify severe cases that need immediate care and can arrange free transport to International Medical Corps clinics. They also conduct awareness sessions that aim to prevent disease and malnutrition from happening in the first place.
CHWs in Action: Aisha and Naima
Working in Mogadishu and Galkacyo—two of Somalia's main cities—Aisha and Naima are just two examples of why CHWs are so important.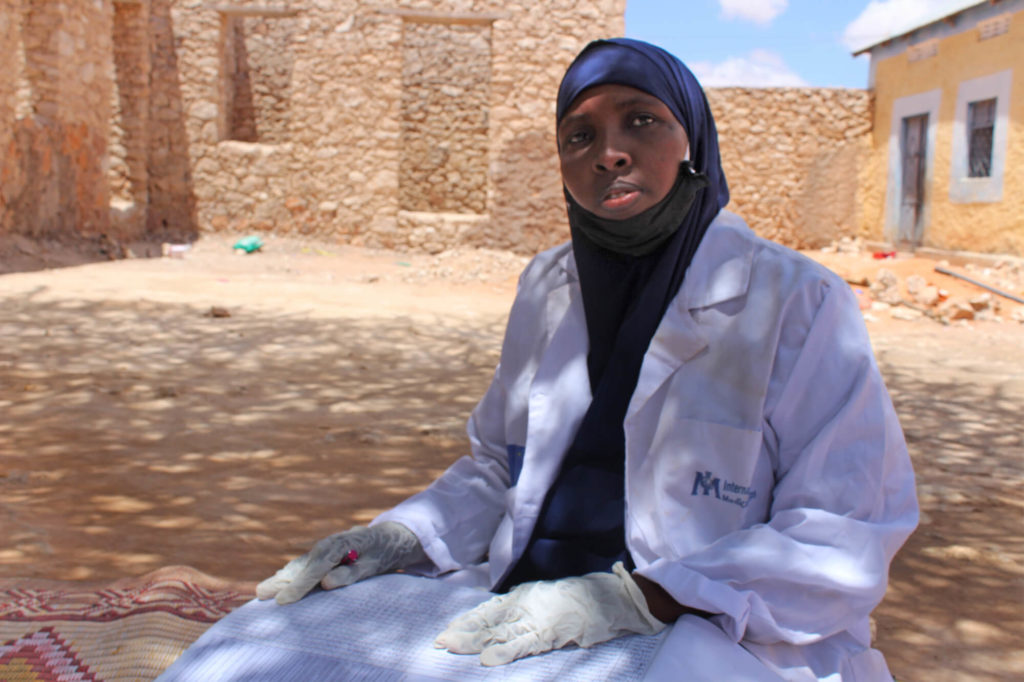 Aisha wanted to become a CHW when she learned that a neighbor had lost her baby due to entirely preventable causes. Outraged about by this tragedy—and about the dire need for maternal health services in Somalia—also drove Aisha to study midwifery, training that her salary as a CHW enables her to pursue.
Now, Aisha carries out lifesaving malnutrition screening in her community and raises awareness about preventing disease. She is also part of an all-female group of CHWs that focuses on maternal health. Each CHW provides mothers and other women in their neighborhood with lifesaving information centered around pregnancy and safe delivery.
But that's not all. With a mask on and while maintaining social distancing, Aisha also fights COVID-19 in Somalia, going house-to-house to debunk myths about the virus and provide information about symptoms and prevention, including how and when to get help.
Naima works as a CHW in Mogadishu. Before the pandemic, she focused on tackling malnutrition in camps for internally displaced persons (IDPs). The 23-year-old visited shelters and checked children for malnutrition while informing mothers about available healthcare services. When the pandemic struck, she wanted to do more.
Following COVID-19 training from our Mogadishu team, Naima returned to the camps. Utilizing her existing relationships, she now addresses misconceptions around COVID-19 while informing residents about tests and self-isolation. Naima also holds awareness sessions about the virus—explaining how it can be transmitted and why it's possible to be a carrier while asymptomatic. She encourages mask-wearing and regular handwashing, highlighting how easily the virus can spread.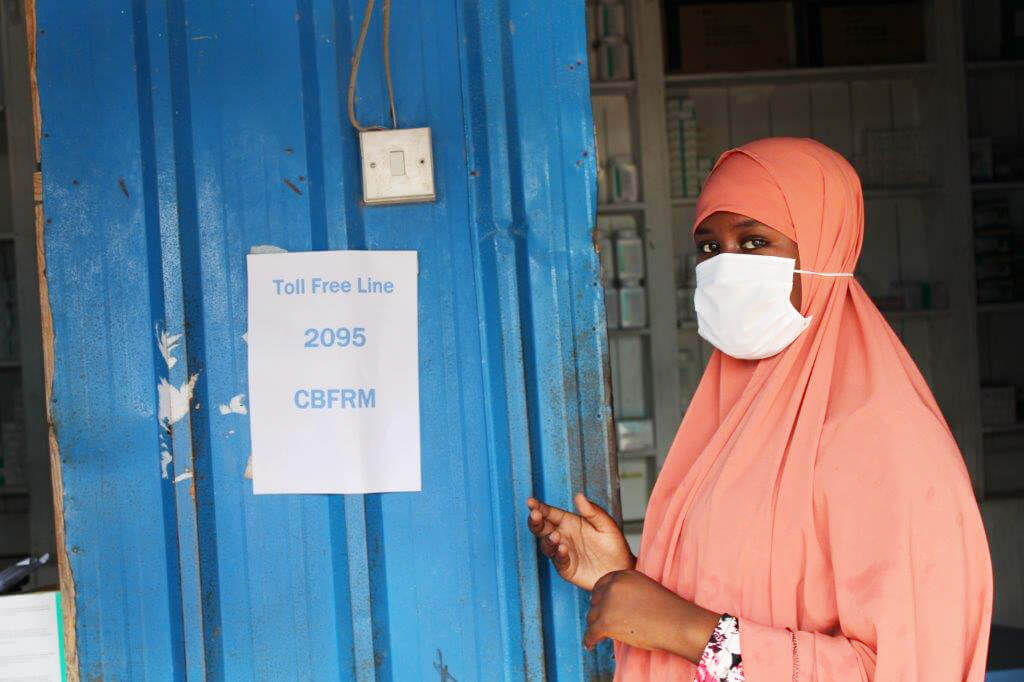 From malnutrition screening to communicating the importance of wearing a mask, Aisha and Naima's brave and selfless work saves lives. Together, they demonstrate that, amid the hardship, Somalia is much more than a fractured nation. With the odds stacked against them and despite having to suffice with so little, the Somali people are proving resilient.
International Medical Corps trains, mobilizes and supports CHWs like Aisha and Naima in Somalia thanks to generous funds from donors such as UK Aid and EU Humanitarian Aid.