Editor's Note: International Medical Corps' Yemen Blog presents a rare view of life on the ground in Yemen, chronicled by our first responders as they battle one of the world's worst humanitarian disasters—fueled by poverty, hunger, disease and a civil war now in its sixth year, with no end in sight. Yemen's misery has only gotten worse since COVID-19 began to spread earlier in the year.
The entry below is written by Dr. Nebras Khaled, our Health Program Manager. She is based in Yemen's capital, Sana'a, where she grew up, earned her medical degree and lived much of her life before joining International Medical Corps in 2014 as a mobile medical team leader. Her current responsibilities include helping to implement our healthcare, nutrition, and water, sanitation and hygiene (WASH) programs in three districts of Sana'a governorate that have been hit especially hard in recent years by the effects of war, crippling food shortages and high rates of cholera.
I had been working for a Yemeni national NGO in the northern town of Harad that focused on helping vulnerable youth, women and children in rural areas when I first heard about an opportunity to join International Medical Corps. I was so excited when they offered me a job in Sana'a, the city where I grew up. I sensed at the time—March 2014—that working for a large international nonprofit group with years of experience and resources could change my life. It has! The work has been rewarding and challenging—especially now, with the impact of the pandemic. With the support of a wonderful team of colleagues, I really believe we are making a difference.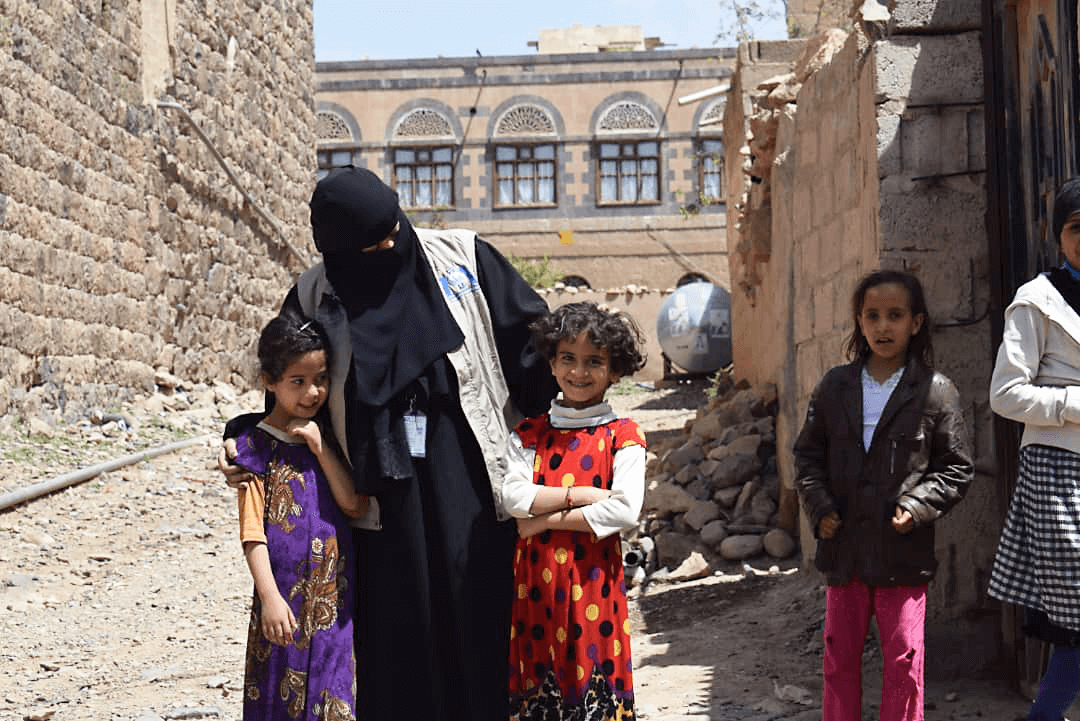 Despite the pandemic, we continue to play an important role here. In many remote, rural areas, we are the community's only source of basic medical care and treatment for severely malnourished children, which can be truly lifesaving. In the three districts of Sana'a governorate where we work, the fight against hunger is getting tougher, as the war and bureaucratic delays disrupt food supplies and drive up prices. Because the government has stopped paying its employees, it's harder than ever to pay for even the most basic of life's needs.
At the neighborhood and village levels, we work with community health volunteers to detect early signs of acute malnutrition among children. This enables us to refer them for specialized care, but that doesn't always work. I've had children return weeks later, still clearly struggling, and when I ask the worried parents why they didn't seek the specialized care we'd recommended—which is free—most say they can't afford the transportation costs. For me, as a doctor—as a person—that can be heartbreaking.
Our promotion of good hygiene and sanitation practices was a priority even before the pandemic, because the communities we serve suffered a lot during the cholera outbreaks that Yemen has experienced in recent years. Now, with COVID-19, good hygiene and sanitation habits are even more important to keep people and their communities safe and healthy.
I specialized in virology during my medical training, and worked in a private-sector medical lab in Sana'a as head of a department that included the study of viruses. So in late 2019, when I read about COVID-19 spreading in China, I knew it would be only a matter of months before it reached Yemen. I was worried about how we could keep providing care during a pandemic through the health facilities we support. I was also concerned about my father, who suffers from a chronic disease. How could I continue working in communities and clinics, seeing hundreds of patients and local residents a day, and still keep my family out of danger?
Luckily, International Medical Corps has a great team in Yemen, with leaders who care deeply about the staff and their families. They constantly focus on our safety, so I began to relax. I learned how to balance the need to protect my family with my responsibility as a physician and manager. To achieve our main goal of providing uninterrupted care through the pandemic, we carefully worked our way through all 10 of the health and nutrition care centers we support in the governorate, training our staff and other frontline workers on how to protect themselves by taking proper infection prevention and control measures—such as wearing masks and, where necessary, other protective equipment. We instilled the importance of safe behavior, such as frequent handwashing, maintaining distance from others and avoiding large gatherings. So far, it has worked. Our team has remained healthy. And through it all, my father remains fine, thank God.
We've also worked hard to raise levels of awareness within the broader community about the virus. For example, our health team has partnered with Yemen's Ministry of Health to spread knowledge of these protective measures, using a variety of messaging techniques. Together, we've distributed more than 40,000 posters describing COVID-19 symptoms and prevention methods, placing them in central areas frequented by locals, travelers and strangers alike.
We have even had COVID-19 prevention messages broadcast on local radio stations in Sana'a. I was on a bus on my way home from work when I heard one for the first time. It stressed the need for infected people to quarantine and provided a phone number to call at the health ministry for guidance if an infected patient got worse. It was exciting to watch people's reactions as they listened—and to know we were making a difference.
---
View next blog:
Inside Yemen's Tragedy