Editor's Note: International Medical Corps' Yemen Blog presents a rare view of life on the ground in Yemen, chronicled by our first responders as they battle one of the world's worst humanitarian disasters—fueled by poverty, hunger, disease, and a seemingly endless war now in its sixth year with no end in sight. Yemen's misery has only gotten worse since COVID-19 began to spread earlier in the year.
The entry below is written by Fayad Al-Derwish, our Senior Officer responsible for Water, Sanitation and Hygiene (WASH) programming in Yemen's southern governorates. He recently relocated to our office in Yemen's southern port city of Aden, nearly four years after first joining International Medical Corps in 2017, first as a community mobilizer in central Yemen, then specializing in the WASH sector. By its very nature, the humanitarian work Fayad does takes him to areas where Yemen's hardship, hunger and human suffering are at their worst—and the war is never far away.
Since I was a child, I had dreamed of becoming an engineer. As 2015 began, armed with an engineering degree from Sana'a University and a new job with an international trading company, I was right on course. But within a few months, war erupted and everything changed. The economy collapsed, and so did my goal of a commercial-sector career. It took time and a lot of soul-searching to refocus on a new professional path, but I eventually retrained for humanitarian work. My country was suffering and I wanted to help others.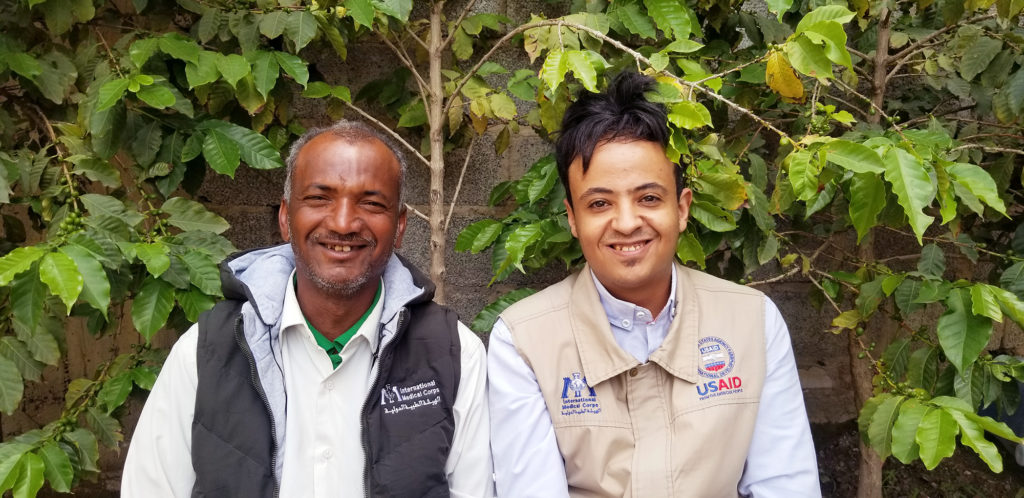 It was a choice that changed my life. Today, I help those whose lives have also been upended by war, but their suffering is far greater than mine, as they are forced to endure displacement, hunger and other misfortunes. For many, the number of dreams has been reduced to just one: survival. And, as the war grinds on with no end in sight, even that is uncertain. I learned that lesson firsthand just two weeks after starting work with International Medical Corps, when I barely evaded capture by an armed group loyal to one of Yemen's warring factions, which had carried out a raid on a hotel used by our staff and contractors.
Nearly six years of war have left Yemen on its knees. As conditions deteriorate further, part of my work now is to be aware of—and try to protect—those who are most vulnerable.
In Yemen, women and girls are considered among the most severely affected of the country's vulnerable groups—and with good reason. It's one of the worst places on earth to be a woman. Indeed, the World Economic Forum's 2020 Global Gender Gap Report, which measures disparities between men and women in health, education, the economy and politics, once again rated Yemen last among the 153 nations surveyed.
In our WASH projects, we are especially aware of the needs of women and girls. For example, at the Al-Shorman displacement camp in central Yemen's Taizz Governorate, we made sure to locate the women's toilet facilities as close as possible to the tented living areas, after learning of their fear at the prospect of potentially dangerous nighttime trips through the crowded camp. We also built a concrete wall in front of the doors of the women's toilets, for additional privacy.
At the large, solar-powered Al-Dhahera well-water project, located in the rough terrain of al-Dehale'e Governorate, we created dual water points divided by a barrier to separate women and girls from their male counterparts.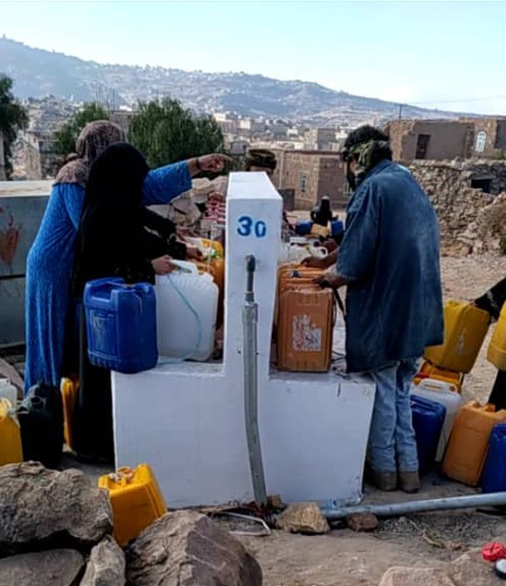 We train our staff to be aware of protection issues, and even talk with our families about it. We also work to prevent human trafficking in all programs—steps that include heightening awareness in the community and providing a phone number and an email address to a Global Humanitarian Trafficking Hotline.
We also encourage parents and communities to teach their daughters to be self-assured, and to stand up for themselves. But it isn't easy, especially with child marriage and honor killings still frequent occurrences, and formidable barriers for women wanting to access Yemen's judicial system. This will take time in Yemen—lots of time. But we are making progress.
---
View next blog:
Building a Foundation for Healthcare in Rural Yemen
View previous blog:
Making a Difference and Saving Lives in Yemen