Editor's Note: International Medical Corps' Yemen Blog presents a rare view of life in Yemen, chronicled by our first responders as they battle one of the world's worst humanitarian disasters—one fueled by poverty, hunger, disease and a seemingly endless war, now in its eighth year.
The entry below is written by Dr. Salah Addin Alqadhi, a Senior Medical Officer at our office in the Red Sea port town of Al-Mukha. Dr. Salah was born and studied medicine in Yemen's third-largest city, Taizz. After working in general practice for about four years, she joined International Medical Corps in 2021. Her duties include working with one of our mobile teams to provide medical and nutritional care in remote, rural areas, and to strengthen awareness about the importance of good sanitation and hygiene practices.
Nearly seven-and-a-half years of conflict have turned life into a living hell for those in the remote coastal districts of southwestern Taizz governorate, an area that long has been a frontline in Yemen's war. Here, I can see—and hear—the suffering of families forced to flee their homes because of the fighting. Many of these families now live in displacement camps, in makeshift tents built from tree branches. There are few, if any, amenities. The camps are filled with a constant risk of infectious disease and an ever-present threat of famine.
Often, the clearest sign of the suffering is audible—the moaning from inside tents that comes from residents reduced, through no fault of their own, to a new level of hardship and despair. In this part of Yemen, even most of those living in permanent homes now lead a spartan existence.
The war has long since destroyed the necessities of a decent life. Basic public services such as water and sanitation have collapsed. When available, healthcare is now usually provided by international relief groups such as International Medical Corps.
Transportation has also been hit hard. The region has the highest recorded number in the country of landmines, which are scattered around villages and along roads, making travel dangerous and injecting a new fear into routine life in once-quiet communities. We occasionally hear about mines exploding, killing or wounding local residents. Sometimes, we find ourselves treating the wounded.
The level of Yemen's food and fuel imports have dropped and the war has severely cut domestic food production, forcing farmers to abandon their fields. The result is malnutrition and poverty. Adding to this gloom, the COVID-19 pandemic is now an inherent part of life in the region
The coastal area has also become the last stop for many displaced families seeking refuge after being driven from homes in areas of fighting further north. As a measure of the war's impact, there are now more than 15 campsites for internally displaced persons (IDPs)in Al Mukha district, where I have lived and worked for the past two years. The same number of camps now exist in neighboring Mawza'a district.
The growing IDP population has added to our workload since we first established an office in Al Mukha more than two years ago to implement a range of programs, including primary healthcare, nutrition, and water, sanitation and hygiene. Today, we support 11 clinics and health posts in addition to Al Mukha Hospital, a secondary level healthcare facility. To reach the region's most remote areas, far from the larger towns and villages, we now operate four mobile teams who provide health and nutrition services for residents of all 15 IDP camps in the district, plus 22 smaller villages located in hard-to-reach areas.
These mobile teams offer medical consultations, immunizations and medicines, conduct lab work, and detect—as well as manage—the area's steady increase in malnutrition cases. They also offer follow-up care to IDPs and residents living in remote households who had been treated earlier at a health facility but have been unable to return for additional care because they live in an area where rugged terrain and poor roads pose significant challenges, even for traveling modest distances. The price of a taxi to a healthcare facility can be an insurmountable barrier for destitute families living in hard-to-reach areas. Often, a walk of three hours or more is their only option.
A little more than a year ago, we presented an ambulance to the Al Mukha Hospital for emergency cases. The donation has already saved countless lives in emergencies by cutting dramatically the transit time needed to bring referrals, severely ill patients and expectant mothers in labor to the hospital for the skilled treatment they so desperately need. But for routine healthcare, families in outlying areas of the district also view our mobile units as a godsend.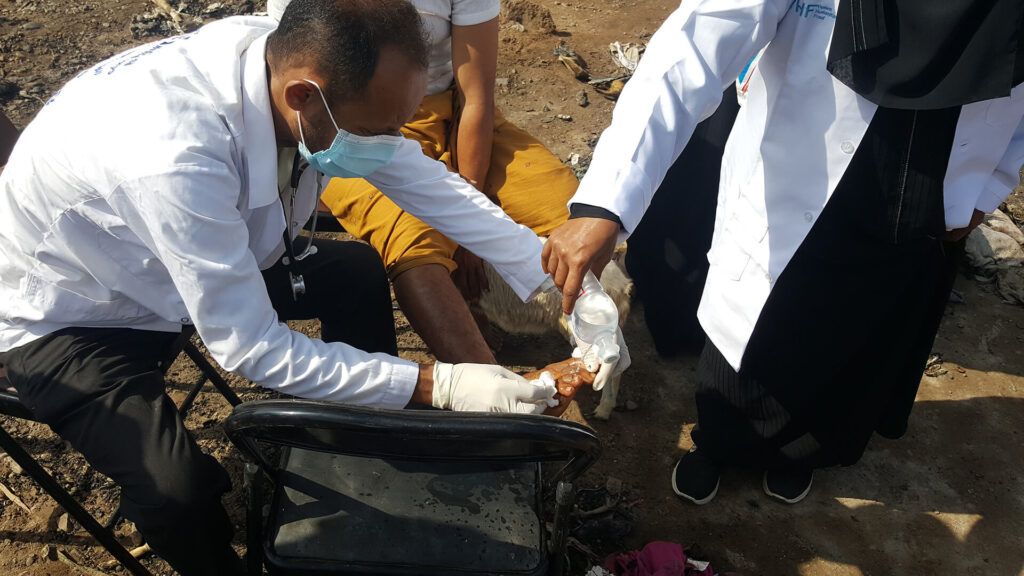 One of our mobile unit physicians, Hafiz Al Homidi, left his home, his family and a more comfortable life in Taizz City, several hours drive north, to become part of our humanitarian relief effort in the coastal areas. The mobile teams provide medical care and related assistance to an estimated 700 residents each month who live in the camps and villages of Al Mukha district. His team also works to heighten community awareness about how to practice good health and safety habits, and how to avoid the dangers of fire, flooding and the spread of infectious disease in the overcrowded living conditions that so often occur in IDP camps.
The hours are long, the work is hard and sometimes dangerous—but it is rarely thankless. For Hafez and others like him, the reward for their dedication is measured not in money or other material things, but in the faces of relieved parents and children whose fever and pain have subsided. We can feel the sense of relief and the gratitude from those we are helping. We can see we are making a difference.
---
View next blog:
New Treatments Rekindle Hope for Yemen's Oft-Forgotten Cancer Patients