Responding to Disasters Around the World
The world has been a troubled place lately. The good news is that our teams are there, responding around the globe.
Haiti Earthquake
A 7.2-magnitude earthquake struck Haiti on August 14, leaving approximately 650,000 people in need of emergency assistance. We have deployed our Emergency Medical Team (EMT) Fixed Type 1 medical facility and staff to Aquin, where we have already provided emergency healthcare services to more than 300 survivors and are treating about 100 people per day.
Hurricane Ida
In the wake of this powerful Category 4 storm, we have deployed an assessment team to Louisiana, and are working with a local group to provide the staff, supplies and equipment needed to support response efforts following this devastating hurricane.
#HurricaneIda🌀 has left more than one million people without power. Our team is mobilizing resources and launching a response in the wake of the storm.

Help survivors of Hurricane Ida get the care they need ➡️ https://t.co/3QOQprzn2m pic.twitter.com/4ugZ4xLRv7

— International Medical Corps (@IMC_Worldwide) August 31, 2021
Lebanon
We are continuing to support a strained healthcare system by providing a range of medical and mental health services to the Lebanese people and the refugees they host, even as they face myriad political and economic challenges.
We recently received a shipment of medications that we've distributed to some 25 healthcare centers.
Amid increasing difficulties and a dire medication shortage in #Lebanon, we've received a shipment of medications💊 , in collaboration with @AneraOrg, that we've distributed to about 25 healthcare centers. Hear more from Eva Hawwa, one of International Medical Corps' pharmacists. pic.twitter.com/k2q6rNAXSy

— International Medical Corps (@IMC_Worldwide) September 2, 2021
Tigray Conflict
In Sudan, more than 63,000 refugees have arrived from Ethiopia since the start of the conflict. We're providing vital services in refugee camps to prevent the spread of COVID-19.
In Ethiopia, our 16 mobile health and nutrition teams in Tigray have carried out more than 54,000 consultations. We will continue to expand our response in Tigray and surrounding regions to address rising needs.
Germany
Western Europe has been devastated by flooding from heavy rains that started on July 14. Germany has been most affected, with entire towns inundated by water, and at least 173 deaths. Our team on the ground has partnered with a German NGO, Luftfahrt ohne Grenzen (Wings of Help), to deliver close to 250 tons of relief supplies so far.
Afghanistan
We've worked in the country since our founding in 1984, and we're continuing to provide lifesaving medical and training services, even as uncertainty about the future grips the nation.
We've been in #Afghanistan since our founding in 1984, providing emergency and primary healthcare, along with training to build skills and resilience. We will continue our work even as uncertainty about the future grips the nation.

You can help ➡️ https://t.co/j9sWjg5YoH pic.twitter.com/hHnLuvr9vV

— International Medical Corps (@IMC_Worldwide) August 31, 2021
Continuing Our Fight Against COVID-19
We continue to fight COVID-19 and support vaccination efforts in the US and around the world.
Supporting Vaccination Efforts in Corpus Christi, Texas
We're supporting healthcare providers fighting the surge of COVID-19 across the US — including in Corpus Christi, Texas, where we deployed a team of medical volunteers to administer COVID-19 vaccines.
Nurses are committed to #VaccineEquity!

That's why RN Response Network teamed up with @IMC_Worldwide to get nurse volunteers on the ground in Texas to administer Covid vaccines to underserved communities in Corpus Christi.#NurseTwitter: Sign up to join! https://t.co/JCUHrAcdBC pic.twitter.com/O6lUjxiq0r

— California Nurses (@CalNurses) August 29, 2021
Fighting Misinformation in the DRC and Somalia
Our team met with community leaders in Butembo, the Democratic Republic of the Congo (DRC), where they raised awareness about COVID-19 vaccines and discussed how they work.
Since our COVID-19 risk communications program in Somalia launched in June 2020, nearly 850,000 people have received accurate information about COVID-19. Our community health workers are working hard to dispel dangerous rumors in local communities.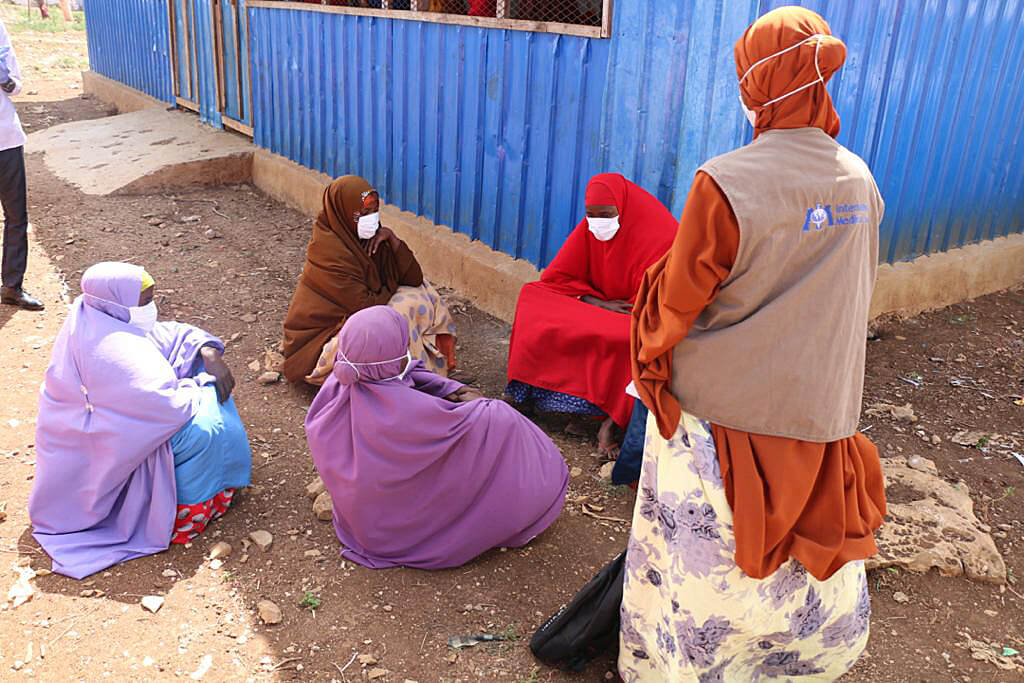 Celebrating Humanitarian Heroes on World Humanitarian Day
Every year on World Humanitarian Day, we honor humanitarians worldwide who provide lifesaving support to those in need, no matter what obstacles may stand in their way. Meet a few of them by clicking below.
Mussa in the DRC 🇨🇩, Annick in Cameroon 🇨🇲, Fayad in Yemen 🇾🇪, Suzanne in Puerto Rico🇵🇷 .

This #WorldHumanitarianDay, meet a few of all the fearless humanitarians on our staff around the world⬇️. https://t.co/WusSzx6Hez

— International Medical Corps (@IMC_Worldwide) August 19, 2021
Increasing Access to Clean Water in the DRC
Following the eruption of the Mount Nyiragongo volcano, thousands of people in Goma could not access clean water. In response, our team on the ground has been working to increase access to clean water, installing clean water points — such as this one at the Afia Maendeleo Health Center.
Providing Mental Health Support in Puerto Rico
From Hurricane Maria to COVID-19, repeated disasters in Puerto Rico have left many individuals emotionally drained and struggling to cope with difficult situations. That's why our team held an Emotional Regulation Art Workshop, which helps people understand their emotions and provides them with an outlet to express their feelings through art.