Though much of Dr. Mohammed Furat's life has been defined by war, he has not let war define him. He was 15 years old when, in 2003, US forces invaded Iraq. "I remember the bombs. I remember the air strikes. I remember everything," says Dr. Furat. "It was all very, very sad." Yet despite coming of age amidst relentless conflict and suffering, the energetic and optimistic 33-year-old doctor has no plans to leave his beloved home country.
"I can't leave because I'm here to help," says Dr. Furat. "If I left, I couldn't heal my people."
This singular mission—to help and heal others—has driven Dr. Furat since he was young, bolstered by his father's mission to ensure that his children excel academically, even as their homeland got ripped apart. Maintaining his studies during the initial conflict and subsequent civil war proved highly challenging. Because of checkpoint delays and a near constant risk of bombings, Dr. Furat had to navigate an hours-long daily commute to school. "But this was the most important thing to me—to finish my studies so I could help my people," he explains. He graduated from medical school in 2012, excited to begin his career in public health.
In 2014, newly engaged, he returned home to Mosul—just before his mom got diagnosed with cancer and the city fell under the control of the militant group ISIS. Many, including his own family, were displaced to Kurdistan. "The situation was dire in terms of housing and food," says Dr. Furat of the violent battle waged between ISIS and Iraqi military forces. "The families who remained in Mosul during this time were between a rock and a hard place, suffering from hunger and poverty under ISIS, as well as destruction and death from bombing during the liberation battle," says Dr. Furat. As soon as the city was liberated from ISIS in 2017, he returned to Mosul without his family to provide help for those suffering most in the aftermath of the fighting.
Shortly thereafter, he joined International Medical Corps as a Community Health Officer and began working in Hammam al-alil camp, which was rapidly filling with large numbers of internally displaced persons (IDPs) whose homes had been destroyed. After years of deprivation under ISIS control, the IDPs lacked even the most basic services, according to Dr. Furat, and our local teams worked around the clock to provide them. Dr. Furat himself drove eight hours roundtrip to reach the camp every day, along unpaved roads full of security risks.
Finding His Purpose
Despite the exhausting hours and long commute, working in Hammam al-alil camp proved highly rewarding for Dr. Furat, who found that he especially loved training. He created and supervised the first community health worker (CHW) team in the camp, consisting of IDPs who were given extensive training to carry out community health activities and awareness campaigns. He also oversaw five primary healthcare centers in and around the camp, and in 2018 got promoted to Senior Community Health Officer.
"I really love my job—I have from the beginning," says Dr. Furat. "We are helping people in my country who are living in terrible conditions, and keeping them going."
He has seen International Medical Corps' impact in many areas—from encouraging diabetic people to eat healthy foods, to raising public awareness of infections and diseases, to promoting handwashing in the camps, to helping his own colleagues quit smoking. He is especially heartened by the children who, despite their hard lives, diligently attend the schools inside the camp, as they remind him of his own dedication to academia. Some of these children have even worked with International Medical Corps as junior CHWs, promoting health in their schools.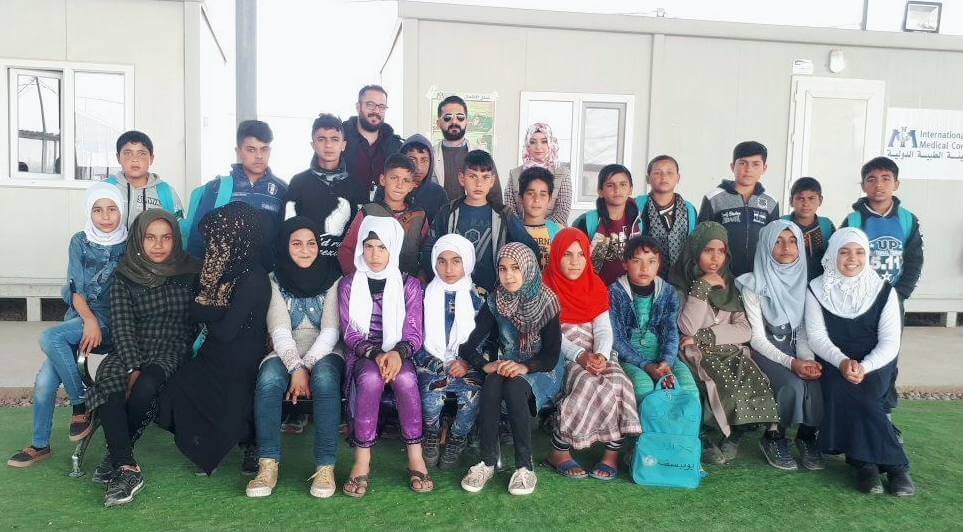 Dr. Furat loves to tell the story of one child he worked with, Ahmed, who was a smoker when they met. Ahmed's family had died in a military operation in western Mosul, and he himself had an injured ankle. When Dr. Furat asked the boy why he smoked, he was shocked by the answer: "I heard that smoking is harmful to my health so I smoke to die soon so that I can join my family."
When Dr. Furat discovered that Ahmed loved football, he challenged him to race one of his colleagues, stating, "If you lose the race, you have to quit smoking because it's preventing you from running fast and becoming a footballer." The boy lost the race, and kept his promise to quit smoking. International Medical Corps staff members invited him to a sports event, where he was given a jersey and asked to play. "After that, we followed him regularly. He became better and better at football, and his personal life became much happier," says Dr. Furat. "This is one of the many success stories that keeps me passionate about my job."
CHWs: A Vital Link to Health
Dr. Furat says that Ahmed's story demonstrates how important CHWs are to the vitality and resilience of communities, especially the most vulnerable and underserved ones, as they understand their communities' unique needs. "We can avoid many, many communicable diseases in villages and camps through community health workers," says Dr. Furat. "They are the focal points – the field guides—who refer people to all the services that International Medical Corps offers." Whether it be referral to general primary care services, or more specialized care for things like gender-based violence and mental health issues, CHWs know how to connect people with the help they need, and can communicate in ways that resonate with the local culture.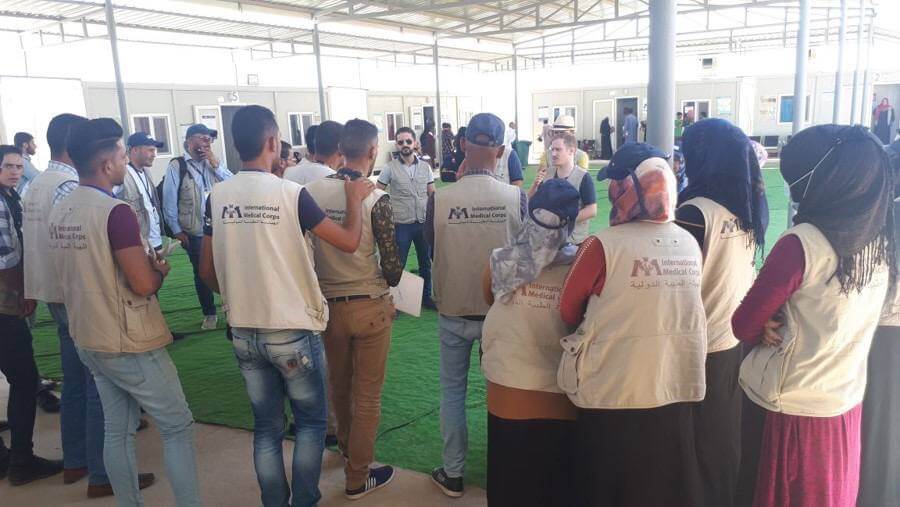 "This situation in the camps is miserable," says Dr. Furat. "You see children without families, many people with psychological problems. We visit them daily—we go house to house." CHWs distribute essential sanitation items like soap and first-aid materials, spread awareness of communicable diseases and provide general health and sanitation education. "These items were very needed in their life, and it was a big aid to them in that critical time," says Dr. Furat.
"We have made a huge impact on the community because we are so close to the people."
This proximity and trust proved lifesaving most recently during the COVID-19 pandemic, which cut off many IDPs' supplies to critical services and supplies due to the lockdown. Dr. Furat says that people were in desperate need of sanitizer and hygiene kits—so our teams increased services, started to promote social distancing, distributed personal protective equipment and provided education on handwashing. "We provided many items that helped people avoid getting COVID-19," says Dr. Furat. "We kept working and moving into the camp and field sites, despite the pandemic, and helped a lot of people during this hard time." Today, in the face of rising COVID-19 cases, the people of Iraq need the continued support of our teams on the ground even more—and Dr. Furat, along with his colleagues, are hard at work providing it.
Staying Motivated and Helpful
"International Medical Corps changed my life," explains Dr. Furat. "I learned many things here, including how to be more connected with people in hard situations and how to help them." Despite the hardships and hard work, Dr. Furat stays motivated by his family, and hopes to complete his board exam within the next year.
"I see my father, who spent his whole life helping us continue our education, and I cannot disappoint him," he says emphatically. "So this motivates me to continue." In addition to honoring those who came before him, Dr. Furat works to secure the future of those who will come after him—namely, his 5-year-old son. "I hope for him to lead a happy life—not like our lives," says Dr. Furat. He says that, for him, this means "a life without any wars or diseases, a life with a good education, a life with a safe home and good roads, parks and restaurants." As he dreamily paints a beautiful vision of the world he wants for his son, Dr. Furat suddenly stops short and simplifies his wish.
"I want him to see everything I couldn't see," he says. And so he keeps working toward that vision.
International Medical Corps was among the first international NGOs to establish lifesaving humanitarian programs in Iraq in the wake of the 2003 Iraq war. We have been there ever since, and have helped those in need in all 18 of the country's governorates. Since 2014, our efforts have focused on meeting the needs of Syrian refugees and conflict-affected Iraqis in northern and central Iraq, as we respond to ongoing violence and insecurity.