A group of mothers in northern Mali have developed an invaluable skill: the power and knowledge to screen and detect early signs of malnutrition. Utilizing their unique standing in the community and armed with a color-coded paper band, they are determined to win the fight against malnutrition.
Mid-upper arm circumference (MUAC) is a fast and effective first-line screening method that enables health and aid workers to determine if a person is malnourished. The color-coded MUAC-band is placed between the shoulder and elbow of the patient—often a child under the age of five. The width of the arm can fall into one of three categories: green, yellow or red. Green indicates that the child is not malnourished, yellow that the child is at risk of malnutrition. The most feared color of all is red. This section of the band means that a child is severely malnourished—a life-threatening condition responsible for 35% of all deaths of children under the age of five.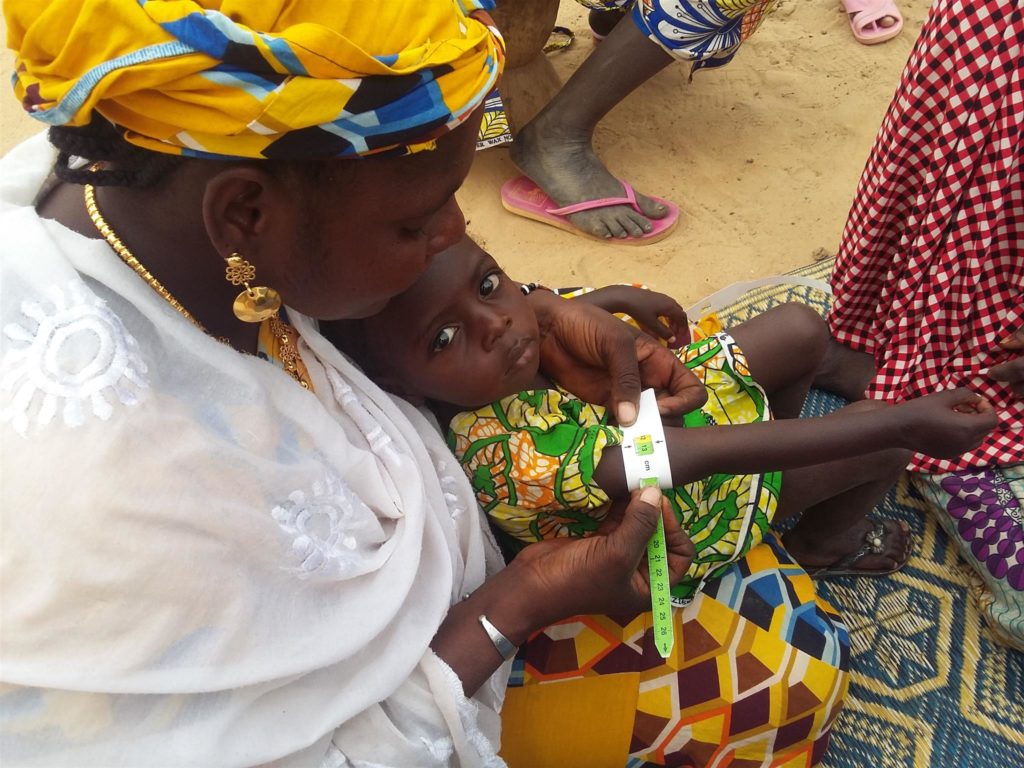 In chronically food-insecure Mali, one of the world's poorest countries, this seemingly simple screening procedure is of vital significance. A long-running food crisis—caused by erratic rainfall, drought and conflict in the northern region—has been unfolding in Mali since 2012. In a country where 90% of rural communities rely on agriculture to survive, weather-shocks such as drought often have fatal consequences.
For most Malians, farming isn't just a way to make a living—it's a prerequisite for survival. The majority of communities in Mali rely entirely on subsistence farming, a hand-to-mouth form of agriculture that yields only enough food to feed the farming family under normal circumstances. When a harvest is compromised, families are left not knowing where their next meal will come from. This means that when conflict or drought drives a family from their home, their source of food disappears.
Malnutrition is one of the most serious consequences of the food crisis in Mali. Of all children under the age of five, 33% are affected by a condition called stunting (low height for their age)—a threat to a child's physical and cognitive development.
To tackle malnutrition in Mali, International Medical Corps implements community-based activities focusing on screening for moderate as well as severe acute malnutrition and, ultimately, preventing it. When a child is severely malnourished, every minute counts. The MUAC-band is an essential tool to quickly determine which child is in most urgent need.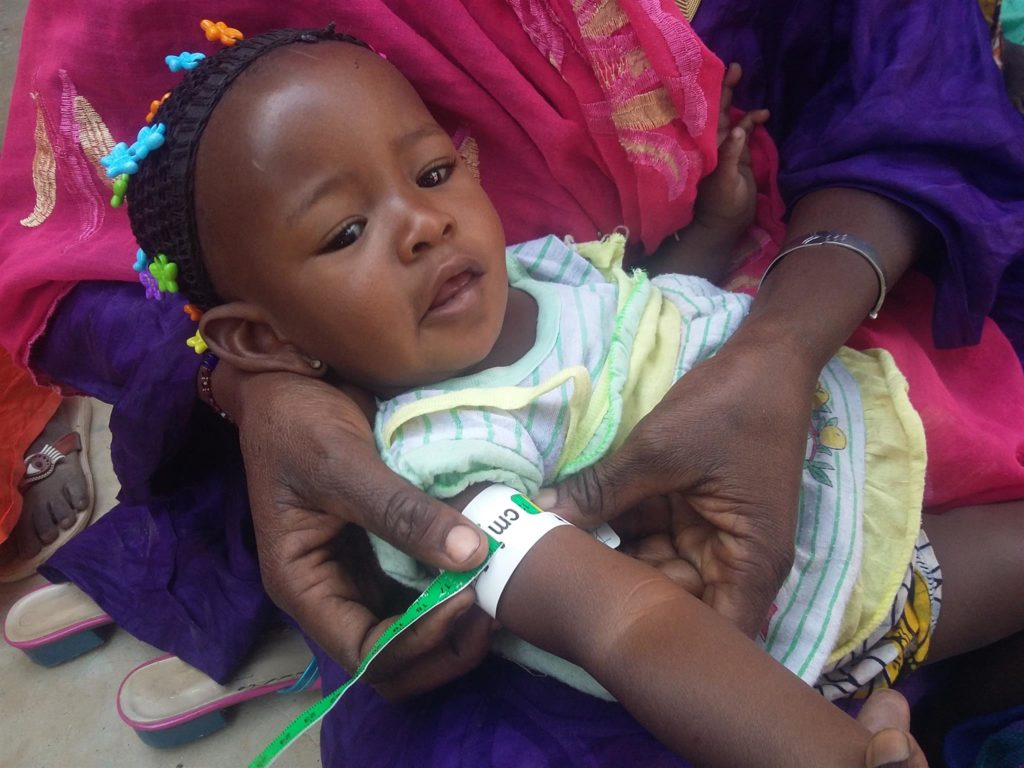 Health and aid-workers all over the world use the MUAC band—but often only when a child is already malnourished. To effectively battle the condition, community-members in areas struggling with malnutrition need to be given the tools and knowledge to spot the early signs. This is why International Medical Corps has launched the "MUAC Screening by Mothers" strategy in Mali.
This strategy, which puts mothers and other caretakers of young children at the center of malnutrition screening, enables local communities to fight malnutrition where it can be first identified: the home. Giving mothers the skills to carry out MUAC measurements also turn them into trained advocates for children's health. As the primary caretakers, mothers can promote regular screening and increase referrals from household to health centers.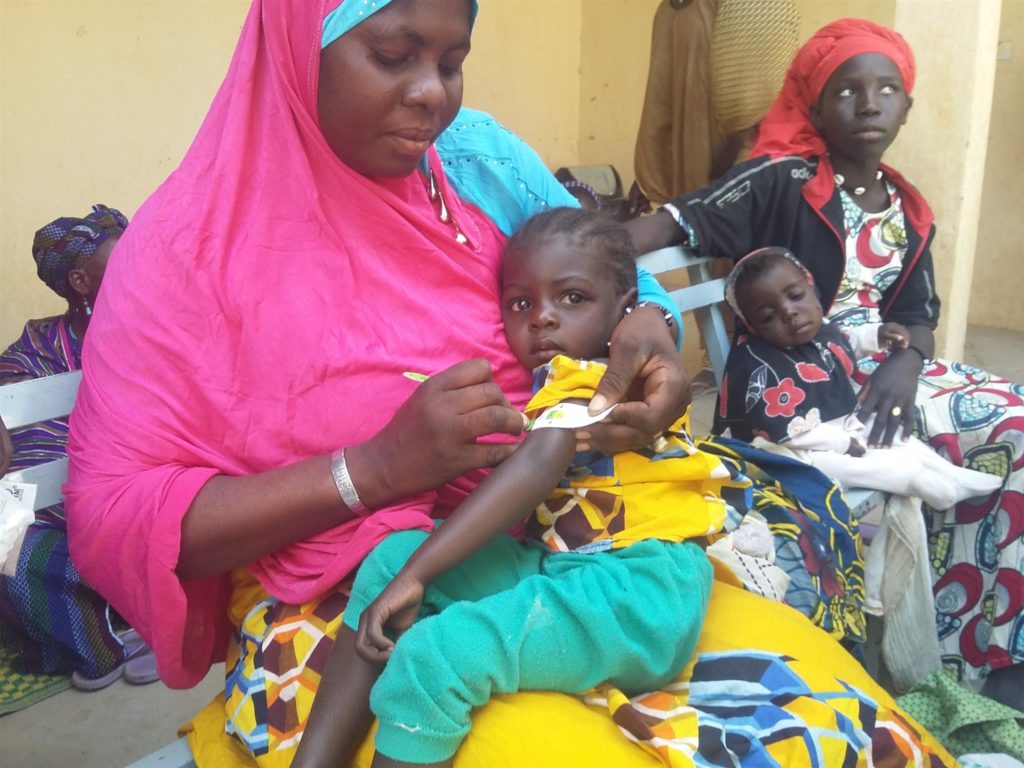 Bintou, a 'MUAC mother', came in contact with International Medical Corps when her three-year-old daughter Miriam fell ill and started losing weight. Under the circumstances, Miriam was fortunate: her mother had spotted the symptoms in time, and Miriam only needed to receive a therapeutic food called 'Plumpy Nut' and return to the center a few days later for a check-up. Two weeks later, the three-year-old had started to gain weight.
When Bintou took Miriam to the health center, an International Medical Corps volunteer showed the 35-year-old mother how to use the MUAC band. Having received the training, Bintou said:
"When the other women in the village saw me measuring the children, they were very surprised. I explained to them [how it worked] and they also wanted to have their own tape, to do the same thing. When I returned home, I told my husband, and he joked with me that I will become a doctor."
Though Bintou may not become a doctor, with the MUAC band in hand and the support of International Medical Corps, she and the mothers of Mali are warriors in the fight against malnutrition.