More than seven years of war have created one of the world's worst humanitarian crises in Yemen—leaving millions with no access to essential healthcare and fewer than half of the country's health facilities fully operational. Rural areas, where essential services have always been weak, have suffered most from the effects of continued armed conflict.
The small village of Al Kharba, which lies along one of Yemen's political fault lines in the rugged mountains of Al Dalhae Governorate, is just one example where relentless conflict has undercut the ability of overstretched government authorities to maintain such essentials as primary healthcare and education. In Al Kharba, the spread of illiteracy has only accelerated a sharp decline of public health and nutrition levels in the community. Unable to read, residents simply lack the knowledge to understand the dangers of the health issues they face.
It was in this environment that International Medical Corps trained and deployed a village resident named Naseem Al-Arawe to work as a community health and nutrition volunteer. It didn't take long for her to find a two-year-old girl named Anhar, who showed symptoms consistent with severe acute malnutrition (SAM). Naseem immediately screened the child and found that the commonly used method of diagnosing malnutrition—measuring the mid-upper arm circumference (MUAC)—registered only 11.4 cm (4.5 in), a size where immediate treatment for malnutrition is recommended. Her appearance was also a clue: she looked underweight and pale.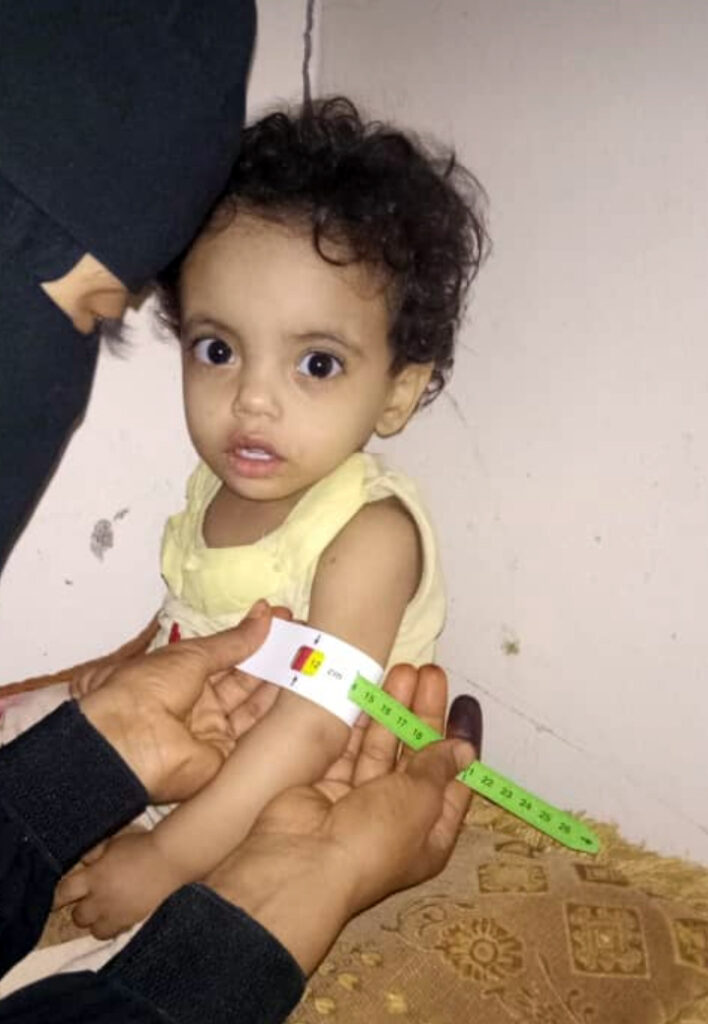 Naseem recalled her initial surprise at the parents' reluctance to approve immediate medical help for their child. Instead, they resisted, wanting to delay any treatment. Only after patiently describing the treatment and how it worked, and underscoring the urgency that the child receive it immediately, did Naseem win over the parents.
"I was aware how important it was to refer Anhar for proper care at a health facility, so I couldn't understand why her parents didn't want to take her," Naseem said. "It took a great deal of effort to convince them to go."
Armed with parental consent, International Medical Corps was able to support Anhar's referral to a health clinic in the town of Sararah, about 2.5 miles away, where she was enrolled in a treatment program for severely malnourished patients. After initial improvement, she was transferred into another program for more moderate cases, where she completed her recovery. Three months after starting her treatment, Anhar was discharged, showing a MUAC measurement of more than 13 cm (5.1 in).
In addition to identifying those in the village needing immediate health and nutrition services, Naseem has worked to heighten community awareness about good health practices. She offers residents tips about practicing good hygiene and safe sanitation and emphasizes the importance of both in keeping village residents safer.