Dobryi den! My name is Taylor Cook, and I work at International Medical Corps as a Senior Communications Operations Officer on our Global Communications team. I usually work out of our Los Angeles headquarters, but earlier this year—with only one week's notice—I accepted a work assignment that took me more than 6,000 miles around the world to the heart of International Medical Corps' Ukraine response.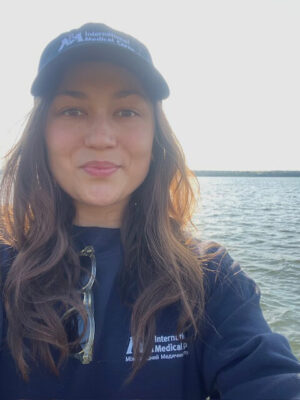 I spent my time in Ukraine supporting our Trauma Care Response Program, a partnership between International Medical Corps and Harvard Humanitarian Initiative. As the war in Ukraine has progressed, Ukrainian health authorities identified a massive need for medical trauma training, and this innovative project is bridging that gap, building a roster of Ukrainian instructors who can provide expert, comprehensive trauma-care training to medical workers close to the front lines.
Before setting foot in Ukraine, my understanding of the nation was confined to news headlines about the Russian invasion and the stories I heard during my work at International Medical Corps. But once there, I immersed myself in the culture of the country, helped along by our indomitable team—a group of a few expats and almost 400 Ukrainian nationals whose resilience and warmth are nothing short of inspiring.
Ukraine is a country filled with complexities and rich traditions, and my newfound friends were eager to share their unique perspectives. Today, I want to share their perspective with you. Here are five insights Ukrainians want the world to know about their homeland.
1. Ukraine Has a Deep History and Heritage
Ukrainians have a deep pride in their country's ancient history and cultural heritage. All over the country, Ukrainian cities are awash in a mix of eclectic architectural styles and sites of important historical, religious or cultural significance.
Unfortunately, these landmark sites have become a prime target of relentless Russian missile strikes. The historic centre of the southern port city of Odesa—also known as the "pearl of the Black Sea"—is so valued that in 2023 it was added to the UNESCO World Heritage list, which described it as "the duty of all humanity" to protect it.
The capital city of Kyiv alone is home to dozens of ancient and modern landmarks. Dating back to the mid-11th century, the Kyiv-Pechersk Lavra is a massive Eastern Orthodox monastery of caves, and one of the world's largest Orthodox shrines. I was fortunate to be in Kyiv on the last Sunday in May, a holiday also known as Kyiv Day, or the day the city was officially founded in the year 482—a mind-blowing 1,541 years ago!
To celebrate the holiday, a colleague took me to a festival where I was able to view 18th-century-style village homes, see Ukrainians decked in traditional garments sing and dance to folk songs, and try some beloved national dishes. This leads me to my next point…
2. Ukraine Has Rich Traditions and Food
Food is often a connector during times of great difficulty. Amid the backdrop of war, semblances of normal life for Ukrainians continue—and making time for special-occasion meals does the heart and mind a lot of good.
While deployed, I tasted a variety of gastronomic delicacies, including dishes that have been eaten in the country for hundreds of years, some since the Middle Ages. Varenyky, or boiled dumplings, are a treasured national dish filled with meat, potatoes, mushrooms, sauerkraut or fruit and served with a dollop of sour cream on top. Borscht(my personal favorite) is a hearty soup composed of stewed meat, broth and vegetables, and can be prepared two ways: red (with beets) or green (with sorrel).
Chicken Kyiv, a dish I had eaten years ago without ever contemplating its origins, is most delicious when prepared and devoured in Kyiv! Hard to get right, Chicken Kyiv is made of a flattened chicken fillet rolled around cold butter mixed with dill, dipped in breadcrumbs and then fried—and eaten hot so the butter pools out of the middle. The two standout beverages were kvass, which is a unique, sweet fermented cereal-based drink, also known as "bread soda," and piana vyshnia, a dark-red cherry liqueur from Lviv that is served warm or cold with real cherries plopped in.
Traditional Ukrainian restaurants are cozy, and the food matches the interior. Breaking bread with Ukrainians was one of the highlights of my time there—and, of course, no shared meal is complete without saying a round of "Budmo" (cheers)!
3. Ukraine Is a Global Force
On my drive across the country to attend training sessions in the southern city of Mykolaiv, I viewed thousands of acres of the steppe that Ukraine is known for. Dubbed the "breadbasket of Europe," Ukrainian farmland is made of a particularly rich, fertile black soil (chernozem) that has enabled Ukraine to thrive as a leading global supplier of agricultural resources, such as sunflowers, corn, barley and, most critically, wheat. Even the national flag speaks to its natural bounty—I learned that the design, consisting of a bottom stripe of yellow with a stripe of blue on top, symbolizes a golden wheat field with a clear blue sky above it.
However, the invasion of Ukraine has caused myriad disruptions to the country's grain industry—and created global ramifications for countries dependent on this grain supply. For countries in the Horn of Africa, Ukraine is their single-largest supplier of grain and fertilizer. Over the last few years, climate change, conflict and the pandemic have all contributed to famine in the Horn of Africa. Since 2022, the war in Ukraine has further worsened conditions in the region. The war's effect on the price of fuel and agricultural products has left already-vulnerable communities across the Horn of Africa in an even more vulnerable position, with the World Food Programme estimating that more than 23 million people across parts of Ethiopia, Kenya and Somalia face severe hunger. Ukraine plays a significant role in keeping the world fed—and changes to their grain supply will have lasting impacts for years to come.
4. Ukrainians Dream of Normalcy
Behind the war are people with dreams. As my colleague told me, "Ukrainians want to live peacefully and be happy. We want to travel, start families, see other countries and trade, and compete with each other in the Olympic games. We do not want to fight. We don't need your land—just to be a nice neighbor."
Many factors of daily life in wartime are beyond challenging—frequent missile alerts and strikes, and the sheltering that accompany them, alongside the reality of difficult material conditions (water and power outages) and the subsequent displacement of people—but the Ukrainian spirit is a force to be reckoned with. The resiliency of Ukrainians is awe-inspiring.
Ukrainians wish for a return to normalcy, and the ability to live freely and safely, just as we all do. They want to farm their land, share their customs, travel outside of their country's borders and move back to their hometowns. They want to stroll their countryside and swim on their beaches without fear of landmines. They long for a peaceful Ukraine.
5. Ukraine Is More than a Country at War
Ukraine is many things: a unique blend of tradition and modernity, the largest landmass in Europe and a country that could help to feed the world. The invasion of Ukraine has caused destruction and harm on a massive scale, affecting millions of Ukrainians. The headlines speak of nothing else. But beyond the headlines, International Medical Corps' teams are on the ground, providing roving medical trauma-care training, distributing essential supplies and even prioritizing staff well-being.
During my time there, I witnessed the impact that our frontline staff is making every day. I also got an opportunity to see a different side of Ukraine. To be a small part of that—and to have had the chance to develop lasting friendships with my Ukrainian colleagues—connected me to humanity on a deeper level.
To me, Ukraine is not just a faraway place thrust into a war, but a place I was fortunate to experience. I cannot speak for Ukrainians, but when I think and write about my time there, I remember our shared humanity and common goals. And I am grateful for the thousands of International Medical Corps supporters who enable us to continue our life-changing and lifesaving work in the country.