Continuing to Fight COVID-19 Around the World
Responding in the United States
In the US, we are supporting 42 hospitals across the country — including in California, Illinois, Massachusetts, Michigan, New York, Puerto Rico and Texas — with a range of services and equipment, including emergency medical field units, supplies and volunteer staff.
We are also supporting vaccination efforts at Martin Luther King, Jr. Community Hospital and at Kedren Community Health Center, both of which serve vulnerable populations in Central and South Los Angeles.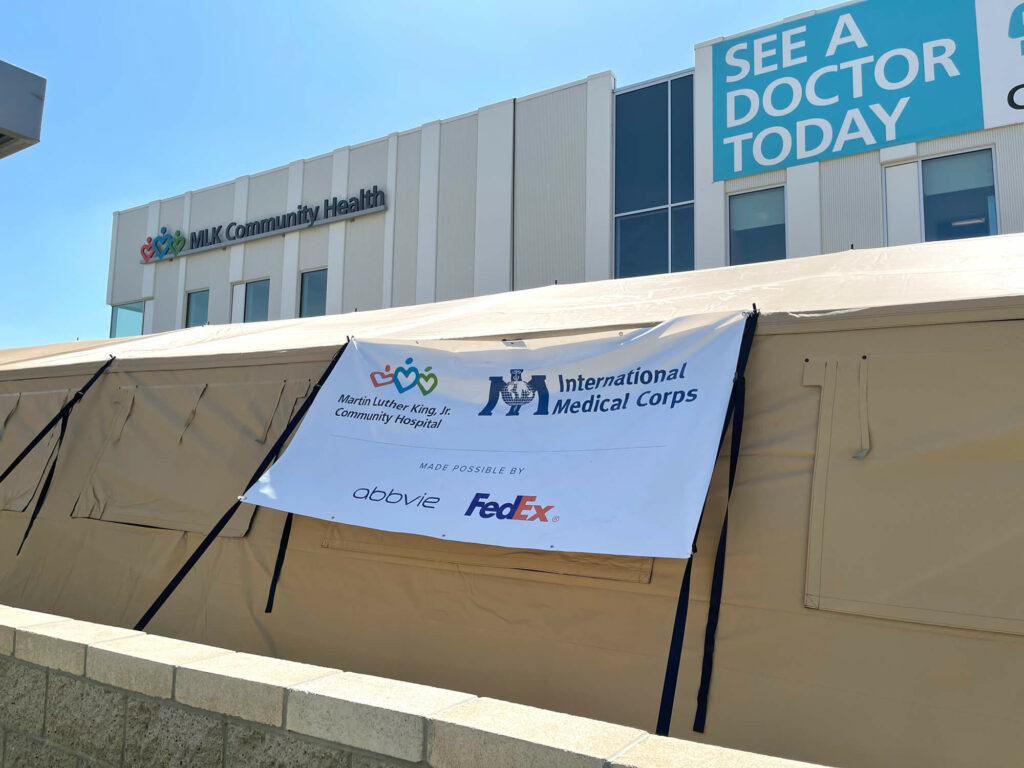 "Everybody's so happy and grateful to get these vaccines," says volunteer nurse Rebecca Abisdris.
In March, the Mayor of Los Angeles, Eric Garcetti, visited Kedren, where we've provided significant support, including emergency medical field units and medical volunteers to dramatically expand capacity.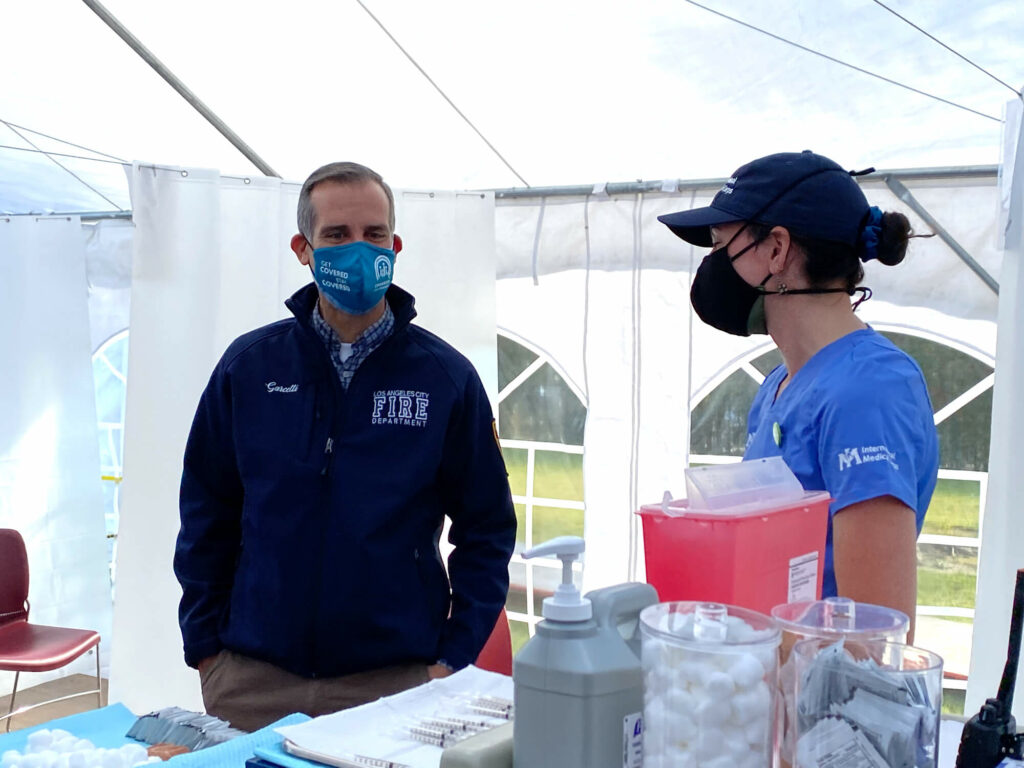 Responding Around the World
At Azraq refugee camp in Jordan, we're helping the Ministry of Health in its vaccination efforts. Our staff is carrying out the identification and registration of refugees, following up with refugees to ensure they receive the second dose, providing transportation and managing the COVID center.
In Lebanon, we're thrilled to see some of our staff receiving their COVID-19 vaccines.
We are happy to see our chief medical advisor in #Lebanon 🇱🇧 , Dr. Nada Awada, getting her vaccine against #COVID19.

Thank you for all you do, Dr. Nada! 💙 #VaccinesWork pic.twitter.com/MjR7gRc4DA

— International Medical Corps (@IMC_Worldwide) April 2, 2021
We're also continuing our COVID homecare program in collaboration with the European Union to provide home care to patients in Lebanon who have mild to moderate COVID symptoms.
Did you know that we're providing #COVID19 homecare in #Lebanon 🇱🇧 ? Nurse Rayan and Dr. Wassim explain how it works ⬇️ @EUinLebanon pic.twitter.com/fQC5KWhPR9

— International Medical Corps (@IMC_Worldwide) April 4, 2021
Fighting Ebola in the Democratic Republic of the Congo
In early February 2021, new cases of Ebola emerged in North Kivu, on the country's conflict-ridden eastern edge. Our teams, already on the ground, immediately began work with the Ministry of Health to battle the disease.
Great news this month at our Ebola Treatment Center in Katwa, where we celebrated the discharge of the last two patients!
Providing Lifesaving Support in Yemen and Syria
Though there's been cause for celebration in some parts of the world, March saw some grim anniversaries, as Syria surpassed a decade of war and Yemen marked six years of war.
In Yemen, the world's worst humanitarian disaster tragically shows no sign of abating. In fact — it might get worse. Yemen is heading toward the worst famine in modern history. That's why nutrition programs are a key component of our response.
Did you know that today marks 6 years of war that the people of #Yemen 🇾🇪 have had to endure? Tragically, the world's worst humanitarian disaster shows no sign of abating. In fact—it might get worse.

Hear from Wasim Bahja, our Yemen Country Director, to learn more ⬇️. (1/5) pic.twitter.com/gtmtVnNMpe

— International Medical Corps (@IMC_Worldwide) March 22, 2021
In Syria, conflict has killed an estimated 400,000 people and forced more than half of Syria's population to leave their homes. As the conflict continues, we continue our work, supporting healthcare services for Syrian refugees and host populations in surrounding countries, including Iraq, Jordan and Lebanon.
The people of Syria 🇸🇾 have lived through a decade of war.

RT this post that explains what's happening in #Syria, the extreme needs that the population faces and what we're doing to help. You'll be raising awareness of the crisis—the first step toward helping. #StandWithSyria pic.twitter.com/V9lvX2Y4Gb

— International Medical Corps (@IMC_Worldwide) March 15, 2021
Celebrating World Water Day
On March 22, we celebrated World Water Day and the importance of clean water for all. Water is essential to life, but clean water is not readily accessible to all. Our teams are working on closing that gap.
In Zimbabwe, our team helps ensure that communities have access to clean water by refilling boreholes and by training the local community on how to maintain water points.
In Nigeria, our team provides more than 1 million liters of potable water daily to internally displaced people in Bakassi camp. Recently, our Water, Sanitation and Hygiene team drilled 12 boreholes and equipped them with solar-powered pumps.
Honoring Women in Pakistan and Around the World
On March 8, we celebrated International Women's Day.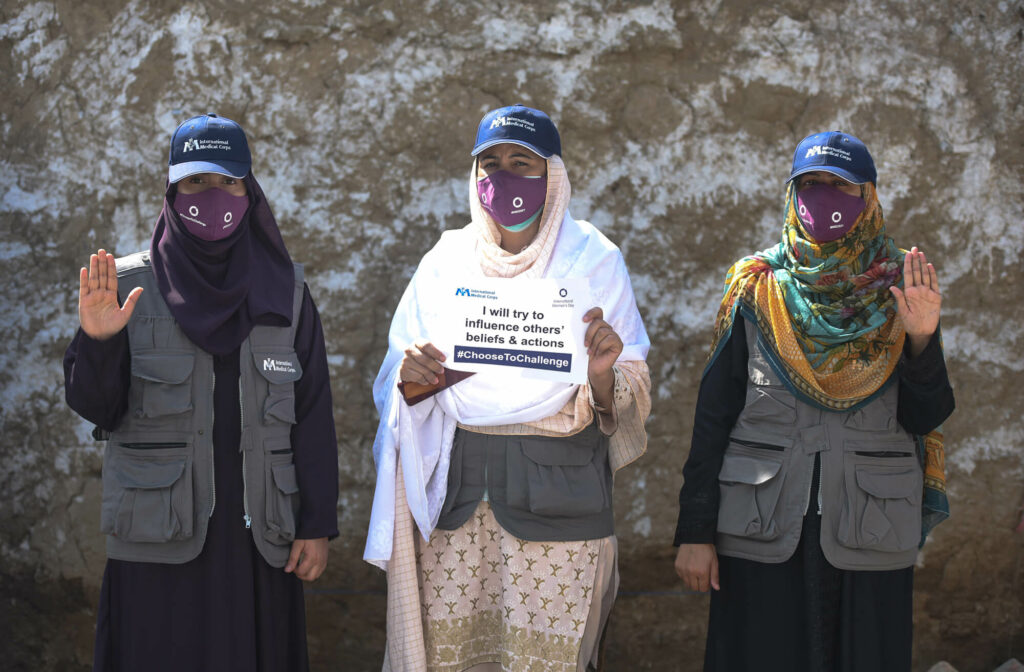 Our community volunteers in Pakistan held activities where they discussed how everyone can work together to end violence against women and girls. Events within the male refugee community in Haripur district helped raise awareness about women's rights.
Sharing Good News
Congratulations, Dr. Nebras Khaled!
We're thrilled to announce that Dr. Nebras Khaled has been selected as an InterAction 2021 Humanitarian Award Winner! Dr. Nebras has spent the last six years challenging stereotypes, breaking taboos and saving lives — all amid the world's worst humanitarian crisis in Yemen.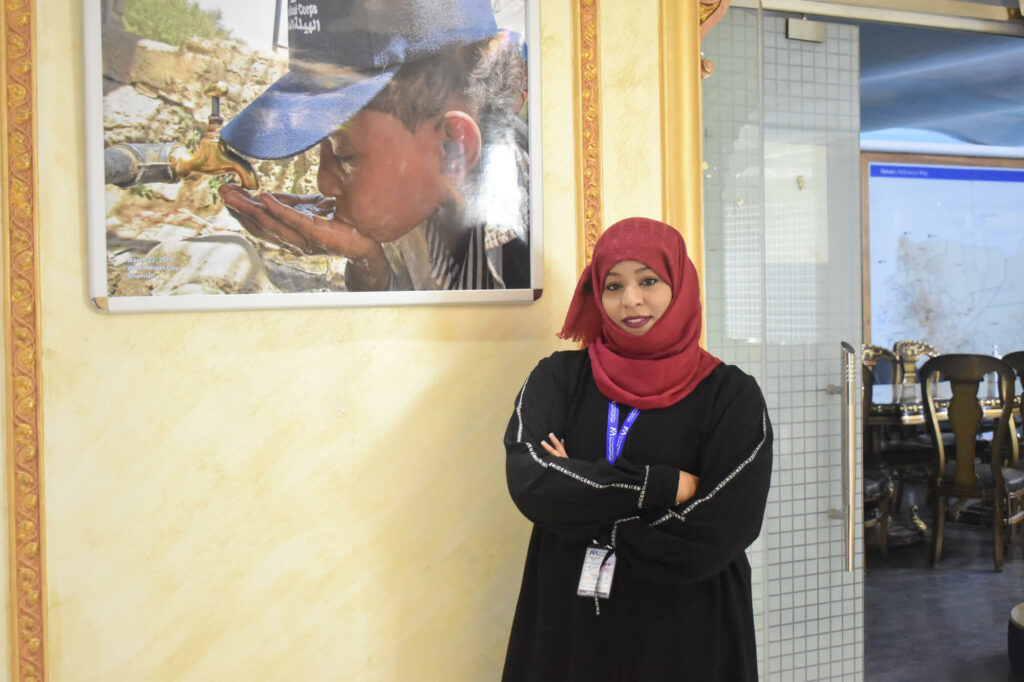 "Picture: Hope" a Finalist in the WHO's Health for All Film Festival!
We're delighted to be selected as a finalist in the World Health Organization's Health for All Film Festival! Our film Picture: Hope tells the story of a group of young refugees who took part in our National Geographic Photo Camp at Melkadida refugee camp in Ethiopia. Watch it here.

Climbing Everest to Support our Work Worldwide
Dr. Michael Paterson has arrived in Nepal and started the final steps of training for his climb of a lifetime! From fighting COVID-19 to combatting Ebola, Dr. Paterson is no stranger to big challenges. He is determined to make it to the top of Everest while raising money to support our lifesaving work.
Support his journey to the top of the world!