As the global COVID-19 vaccine rollout gets underway, humanitarian organizations such as International Medical Corps are using their expertise in community health to mount effective vaccination campaigns in the countries where they work. With our decades of experience managing outbreaks of infectious disease—from helping to eradicate wild polio in Africa, to supporting cholera vaccinations in Haiti, to treating malaria in Yemen—we've seen how challenging it can be to deliver critical healthcare in remote areas and demanding environments. Here's a look at what goes into effective last-mile delivery of vaccines and how International Medical Corps is supporting worldwide immunization efforts with staff, training, supplies and education.
Last-Mile Delivery and Cold-Chain Support
The "last mile" is a phrase used to describe the last leg of any product's journey to its destination. This final journey could be just a few miles long—from a local warehouse to your front door, for example—or it could extend thousands of miles across challenging terrain. The last mile looks different for every product; when it comes to medication, it can get especially complicated. Many medicines, including vaccines, must be kept at consistent cold temperatures, which is where the concept of "cold chain" comes in.
Cold chain involves the requirement for refrigeration to be constantly maintained from product creation to disbursement. If this chain is broken, and the product's temperature rises above or falls below what it needs to stay viable, then the product's shelf life shortens. In the worst cases, the product becomes unusable.
"The cold chain has to be uninterrupted from the day the vaccine is manufactured until it's administered to a patient," explains Nikola Usenovic, Head of Global Procurement at International Medical Corps. "Imagine an invisible rope running all the way from the factory through ports and airports to warehouses, and finally to the patient. That rope cannot be cut anywhere."
Fortunately, International Medical Corps has supported last-mile delivery of vaccines throughout our 37-year history. Our teams around the world are ready for this for challenge.
Beating Polio in Africa
More than a decade ago, International Medical Corps partnered with the World Health Organization (WHO), UNICEF and national ministries of health to help deliver polio vaccines in countries across Africa—including Chad, Nigeria, South Sudan and the Democratic Republic of the Congo—as part of a global polio eradication campaign. For the campaign, International Medical Corps staff trained and mobilized community members, teaching volunteers to communicate critical messages to local populations and encouraging them to participate in immunization activities. These messages were shared through groups, as well as through one-on-one discussions, where volunteers answered questions and addressed concerns.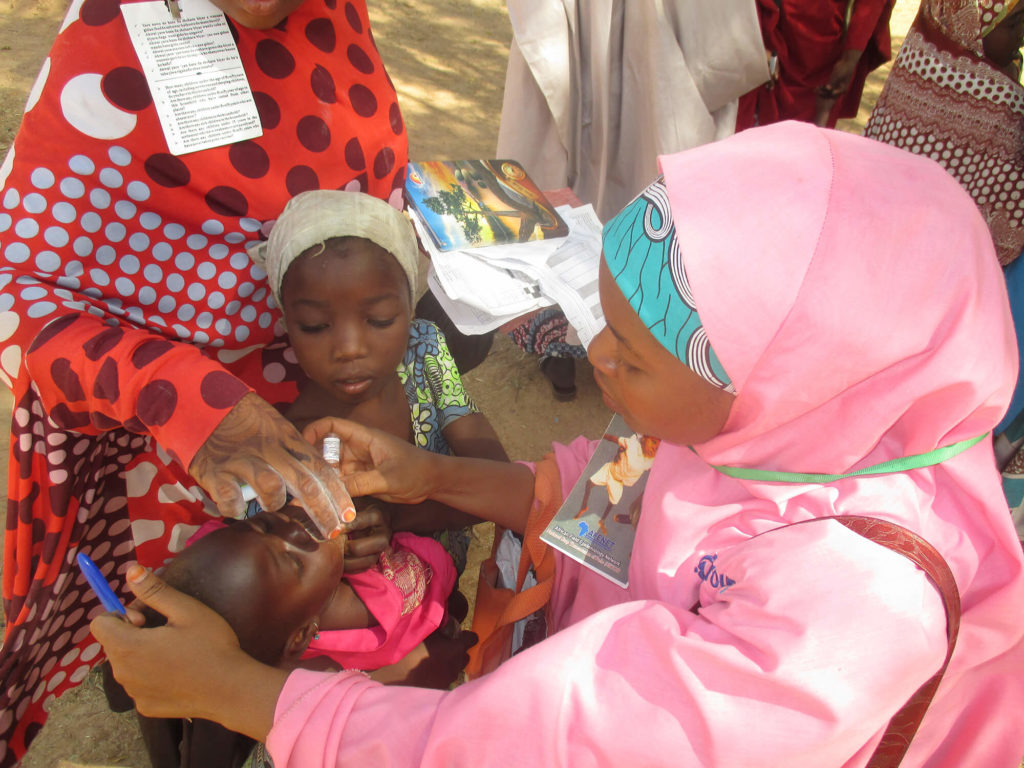 But there were vicious rumors and deadly myths that had to be debunked.
"I will never forget when nine polio vaccinators were shot dead by gunmen in Kano State in 2013," says Shehu Ramat, Project Eradication Initiative Coordinator with International Medical Corps in Nigeria. The violence, he explains, was "the result of a rumor claiming that the vaccine makes you sterile."
To combat misinformation, International Medical Corps worked closely with a number of influential community members, including traditional and religious leaders. As the most trusted members of their communities, they often are the gatekeepers of information to local populations. If they approve of the vaccine, people are much more likely take it.
Thanks to the dedication of our team and community partners, the WHO declared Africa free of wild poliovirus on August 25, 2020. While we continue our immunization efforts in Nigeria and around the world to ensure that people are protected from polio, we're now applying that expertise to our COVID-19 vaccination efforts.
Training, Awareness and Education
Implementing a large-scale vaccination effort requires many trained healthcare workers. Given the magnitude of this initiative, ministries of health alone won't be able to mobilize the required personnel. That's why International Medical Corps will deploy 1,500 global staff members with immunization campaign expertise to support this massive effort.
Because the COVID-19 vaccine is new, ministries of health—together with the WHO—are likely to provide additional training to healthcare providers. In areas where such training isn't available, International Medical Corps will step in.
"If there is a country mission that doesn't have access to any training from ministries of health or the WHO, then our senior health advisors can provide it," says Dr. Jill John-Kall, herself a Senior Health Advisor at International Medical Corps.
In addition to vaccination education, International Medical Corps will provide training for healthcare workers and frontline personnel in stock management, cold-chain support, infection prevention and control (IPC), and post-campaign monitoring.
Once providers have the vaccine and the necessary knowledge and training to store and administer it, there's one major hurdle left: making sure community members understand the vaccine and thus are receptive to taking it. Previous vaccination campaigns have shown that misinformation can spread more quickly than the truth. International Medical Corps' community health workers will help to debunk those myths, providing materials that adapt WHO or ministry of health messaging to the needs of each community.
Storage, Supplies and Equipment
Though International Medical Corps is relying on national ministries of health to source and procure COVID-19 vaccines, there are numerous supplies our healthcare workers will need in order to safely administer them. That's where our Global Procurement Team comes in. For the past year, this team has skillfully navigated the complexities of sourcing personal protective equipment (PPE)—prepositioning or delivering millions of masks, gloves, respirators, gowns and other essential items to hundreds of primary health facilities, hospitals, COVID-19 treatment centers and mobile medical units worldwide.
The team will continue to play a crucial role in 2021, sending vaccination supplies—which range from refrigerators, freezers and vaccine carriers to needles, syringes, sharps collectors, swabs and adhesive bandages—all over the world. The procurement team has already launched a market survey to determine which manufacturers and wholesalers have the products that meet the specifications and timing of our immunization efforts.
As vaccine rollout marches on, our staff and volunteers will provide urgently needed healthcare to communities worldwide. Whether that requires a trip across the street or across an ocean, we'll be there to help.