Providing Relief to People Affected by the War in Ukraine
Our team is expanding its relief efforts inside Ukraine in response to the war there, as well as in neighboring countries, to provide medical, mental health and protection services to the millions of people affected by the conflict.
In Poland, our team conducted a series of in-person psychological first-aid training sessions for first responders, teaching them how to support crisis-affected populations appropriately, and emphasizing team and self-care strategies, as well as stress-management tools.
In Moldova, our team provided hygiene kits to refugees at accommodation centers in border districts in central and southern Moldova. Each hygiene kit includes towels, toilet paper, shampoo, soap, toothbrushes and toothpaste, personal protective equipment (PPE) items and more.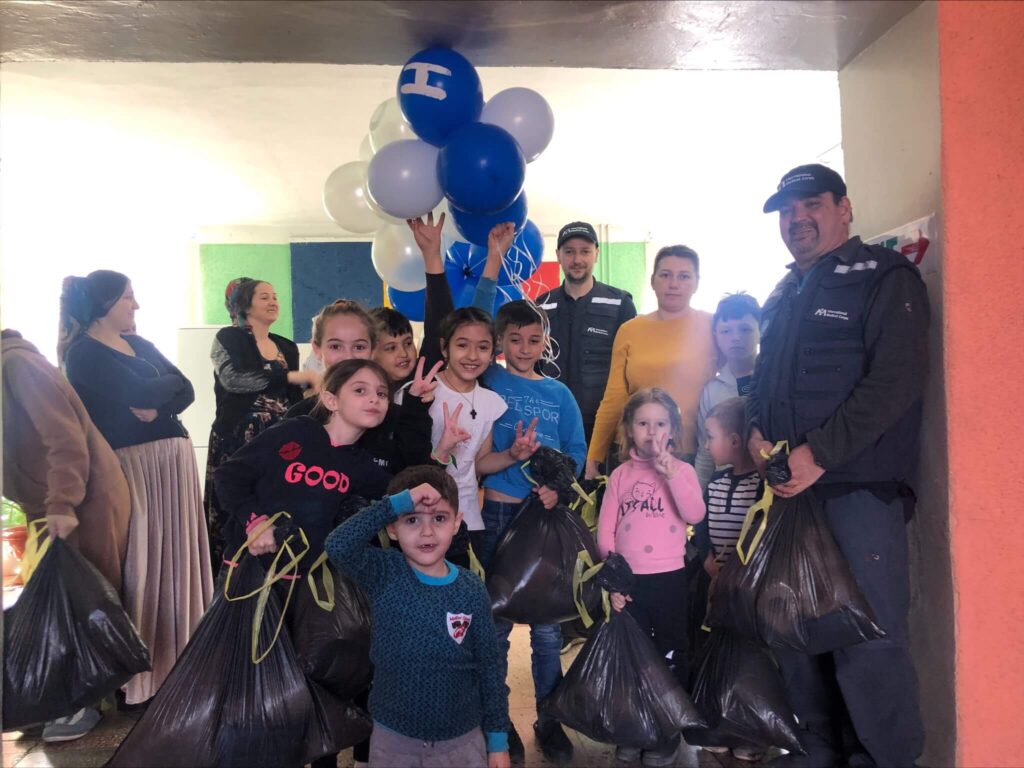 Did You See Our Team on 60 Minutes?
Journalist Scott Pelley and his 60 Minutes crew traveled to Ukraine with our Emergency Response team to report on how we are delivering vital healthcare supplies and services inside the war-torn country.
Journalist @ScottPelley talks with our Director of Emergency Response, Dr. John Roberts, about how we're delivering vital healthcare supplies and services to people affected by the war. @60Minutes goes inside #Ukraine with our team. Watch below ⬇️ https://t.co/nzBlPkFKHa

— International Medical Corps (@IMC_Worldwide) April 4, 2022
Fighting COVID-19 Around the World
With COVID-19 on the rise again in many parts of the world, we continue to support prevention and vaccination efforts globally.
In Lebanon, our amazing health volunteers conducted a series of COVID-19 awareness sessions and distributed hygiene kits for students.
In Poland, our team has worked with Polish Humanitarian Action to procure and distribute 3,600 COVID-19 rapid antigen tests to refugee receiving centers. We also continue to distribute PPE in Ukraine.
In the Democratic Republic of the Congo, our community health workers are teaching children how to protect themselves and others from COVID-19, conducting infection prevention and control training to teach proper handwashing techniques, among other healthy practices.
Responding to the Drought in Somalia
Somalia's worst drought in four decades has contributed to an unprecedented water crisis, resulting in a shortage of safe drinking water, poor sanitation and outbreaks of disease. Our teams are trucking in water, installing water bladders for storage and setting up distribution systems so communities can have safe access to clean water for both people and livestock.
Our team at the Galkacyo Hospital is distributing lifesaving medical supplies to people who were forced to leave their homes due to the drought.
Training First Responders in Pakistan
As part of the Building Resilience and Preparedness project, our team held first-aid training sessions in two refugee villages, Badaber and Mera, in Peshawar district, Pakistan.
Responding to the Tigray Conflict
Despite the challenges of operating in a conflict zone, we've continued to offer services and support to people in Tigray and surrounding regions. We're operating 23 mobile medical units that are providing integrated health, nutrition, gender-based violence, mental health and psychosocial support, and water, sanitation and hygiene (WASH) services.
The expansion of fighting in #Tigray 🇪🇹 has created an additional estimated 2.2 million IDPs in Amhara, Tigray and Afar and has rendered 2,343 health facilities nonfunctional. We continue to provide lifesaving services on the ground. Find out more ⬇️ https://t.co/ttHnZLoMOl

— International Medical Corps (@IMC_Worldwide) April 1, 2022
Continuing to Provide Lifesaving Support in Yemen
After more than seven years of relentless civil war, 80% of people in Yemen rely on aid to survive. Despite the conflict, our teams in Yemen are continuing to provide lifesaving medical assistance, equipment and access to clean water.
Our team recently distributed WASH kits to internally displaced people in the Al-Barza camp and Bani Mansour.
Celebrating World Water Day in Zimbabwe
Our WASH team in Zimbabwe commemorated World Water Day on March 22 with a celebration in Sialotha village, in the Sikalenge ward of Binga district.
More than 300 community members attended the celebration, along with representatives from the District Water and Sanitation Subcommittee and several of our partner organizations.
Participating in Preparedness Planning
On March 29–31, our team attended the first Sub-Regional Logistics Preparedness Workshop for Central America, which was organized in Guatemala by the United Nations World Food Program, through the Global Logistics Cluster.
The workshop brought together 12 agencies from the humanitarian sector, private-sector companies and representatives of the governments of Central America and the Caribbean to discuss the challenges and logistics response capabilities of the region.
Offering Mental Health Support in Venezuela
Because the ongoing socioeconomic crisis in Venezuela has adversely affected the mental health and general well-being of many of the residents in Venezuela, our Mental Health and Psychosocial Support (MHPSS) team has launched a multi-faceted response to make MHPSS services more available to vulnerable populations, with the goal of reducing suffering, improving well-being and helping people develop their life and parenting skills.