Many of us are fortunate enough not to worry about accessing a toilet or clean water, but instead view them as basic necessities. However, in a war-torn country like Yemen, safe water and modern sanitation facilities are luxuries that millions can only dream of. Years of civil war have turned Yemen into one of the world's worst humanitarian crises. Constant fighting and restrictions have crippled the country's healthcare infrastructure—including water, sanitation and hygiene (WASH) services. Poverty, malnutrition and epidemics like cholera and measles are rampant.
Ali Mohammed Almdbaah and his family—residents of Al Ahad, a tiny village about 190 km south of the capital Sana'a—have never had a toilet in their home. In fact, not a single household in their village had a toilet. Open defecation was common, stripping people of dignity and posing safety risks—especially to women and girls, who preferred to wait until dark to urinate or defecate in the open. The absence of a safe sanitation facility also posed health risks, as defecating in the open exposed people—particularly women and girls—to urinary tract infections. In addition, the families did not have easy access to clean water, as the nearest water source was outside their village.
In Shafa, a remote mountainous area, residents did not have access to safe water—the closest source was a village about 2 km away. Nabil Saeed Hasan and his family had to walk this distance daily to get water, and were sometimes not able to get enough for everyday use. The journey was particularly challenging for pregnant women, who had to walk long distances carrying cans of water.
Al-Mawerah and Al-Qaseer, in Sana'a governorate, shared a single central water-supply system—and even that didn't work. The water pump required fuel, which communities could not afford and has been in short supply due to import restrictions. Village residents started using water from unprotected sources, such as open wells and puddles. As a result, many people began to suffer from acute watery diarrhoea (AWD) and cholera.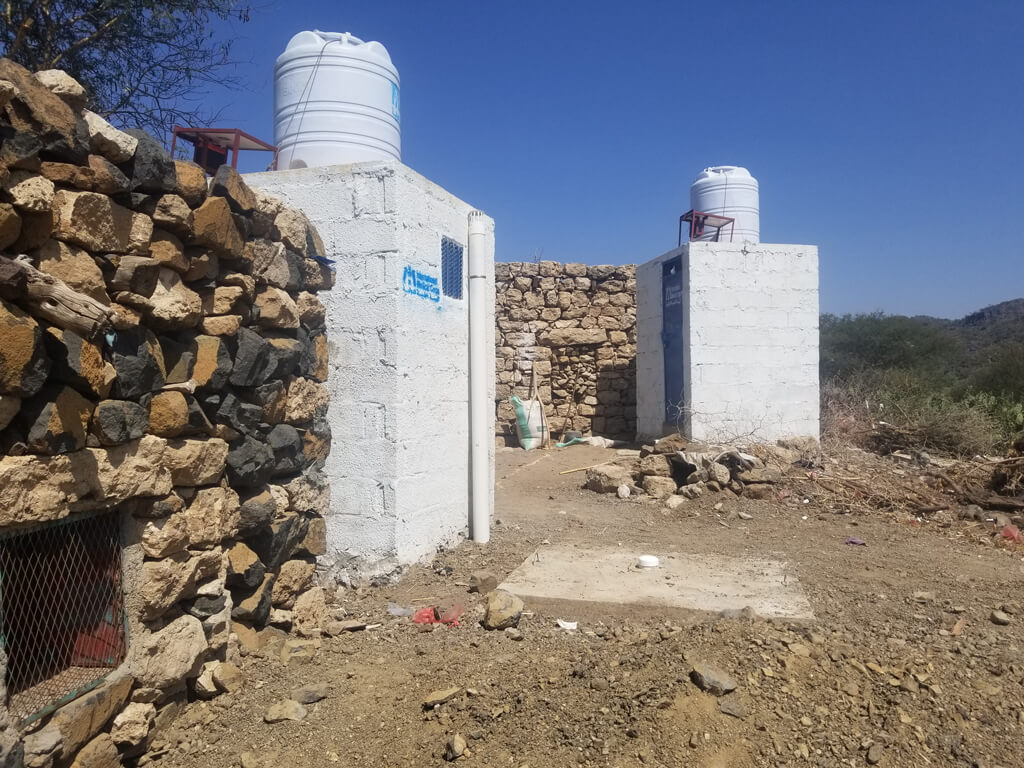 Such stories of distress are familiar throughout Yemen. According to UNICEF, by the end of 2022, more than 17 million people—including 9.2 million children—lacked access to WASH facilities. That's more than half of the country's population. In addition, only one-third of the population is connected to a piped water network. "In the absence of an adequate WASH infrastructure, people resort to unsafe practices, such as open defecation and drinking water from unprotected sources," says George Omara, Field Site and WASH Coordinator for International Medical Corps. "Many people even lack simple materials, such as soap, to practice personal hygiene. These factors increase the risk of water-borne diseases. In fact, poor water and sanitation in Yemen have caused one of the biggest cholera outbreaks in the world. It can also contribute to COVID-19 and other communicable diseases," he explains.
WASH Needs: More Challenging for Women, Children and the Displaced
Children are more likely to suffer from diarrheal diseases and malnutrition without safe water and sanitation services. Women and girls face challenges during menstruation, and reproductive health also is affected. In addition, the absence of sanitation facilities at home makes women and girls vulnerable to gender-based violence.
An increasing number of internally displaced persons (IDPs) has burdened the WASH infrastructure. Yemen today has more than 4.5 million IDPs, who often have to struggle with host communities to access the limited water and sanitation resources at their disposal. "The war in Yemen has caused large-scale displacement," says Yasir Ahmad, Senior WASH Advisor for International Medical Corps. "Public services—including the WASH system—are overwhelmed. Water is a scarce resource today in Yemen."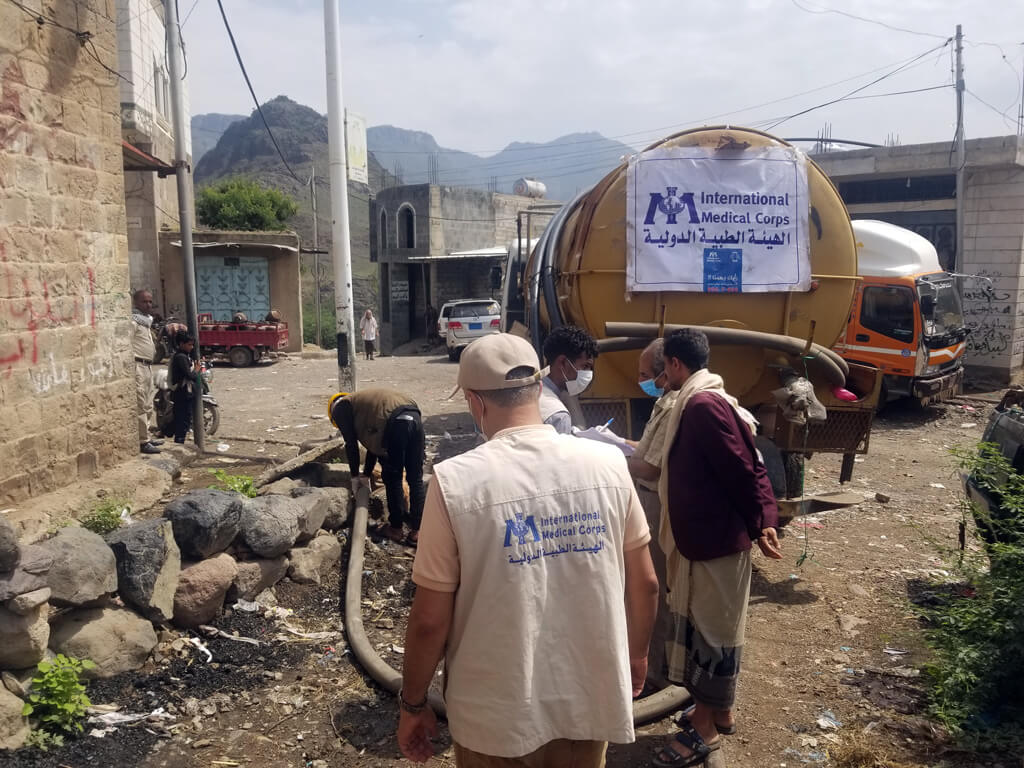 Providing Yemenis with accessible WASH services may be challenging—but not impossible. International Medical Corps has supported primary and secondary healthcare services in Yemen since 2012, even before civil war broke out. In fact, WASH is one of the key programmes of our emergency response there. We provide safe and potable water, organize awareness sessions on infection prevention and control, build sanitation facilities, rehabilitate and promote sustainable water systems, and support responsible waste management. Our WASH teams also distribute hygiene and cholera kits, construct rainwater-harvesting tanks, monitor water quality and focus on capacity building by training community health volunteers (CHVs) on WASH-related topics. Since we started providing these services in 2012, we have reached more than 4 million people in the country.
Building Sanitation Facilities and Water Supply Systems in Hard-to-Reach Areas
When our WASH team heard about the lack of toilets in Al Ahad, they decided to address the problem. The teams worked out the logistics, purchased the necessary raw materials and in 40 days had built 12 community toilets throughout the district. They also used galvanized pipes to connect the toilets to water sources—meaning the toilets have handwashing facilities. To help ensure that residents continue using the toilets, our teams trained five CHVs to conduct public health awareness sessions. "I have no words to express my gratitude to International Medical Corps," says Almdbaah, whose family now uses the community toilets. "You changed our lives and helped save our dignity. Open defecation has stopped entirely in our village."
The WASH team also assessed the situation in Shafa, consulting the residents to better understand the challenges and exploring options for sustainable water access. After detailed discussions, we implemented a sustainable solar-powered water project that provides clean water to more than 5,000 people in the village. According to village resident Abdul Rahman, the project has proved to be a turning point. "Our children can now go to school early because they don't have to wait for water," he says. "The women can take care of their children, as they don't need to commute long distances in search of water. And instances of diseases will hopefully reduce because we now have access to safe drinking water."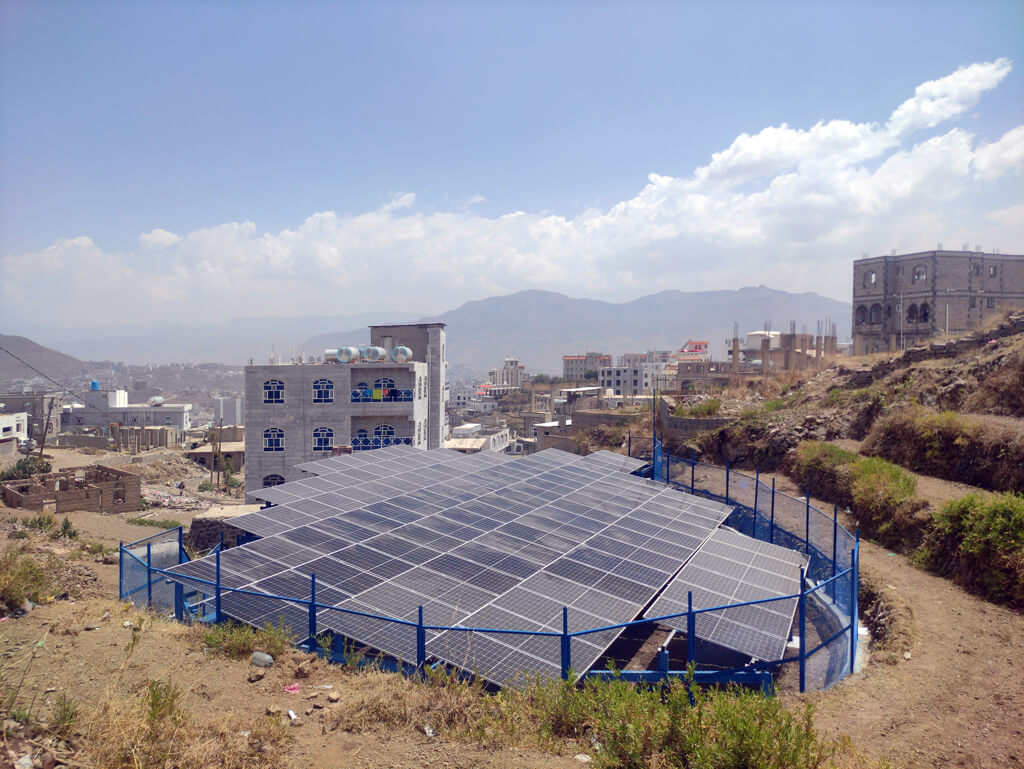 In Al-Mawerah and Al-Qaseer, we installed an integrated solar-powered pump with 45 solar panels that provides residents with 70,000 litres of clean water every day, with each person getting at least 15 litres per day. "To ensure that the water pump runs smoothly, we trained water management committees and provided them with maintenance and operational tools," says Amer Mohammed, Senior WASH Engineer.
Managing Solid Waste to Prevent Infections and Diseases
Bani Mansour, a rural area in Ibb governorate, and Sayan, a small locality in Sana'a, had no solid waste management systems in place. Community members would simply dump their waste in an undeveloped area, creating a breeding ground for infection that could lead to such diseases as cholera and malaria.
Our WASH team organized a four-day cleaning campaign in Bani Mansour and a two-day campaign in Sayan. The campaigns promoted environmental hygiene and helped raise awareness of proper waste disposal. More than 70 people—including students, community leaders and elders—participated in the campaign, along with our WASH teams.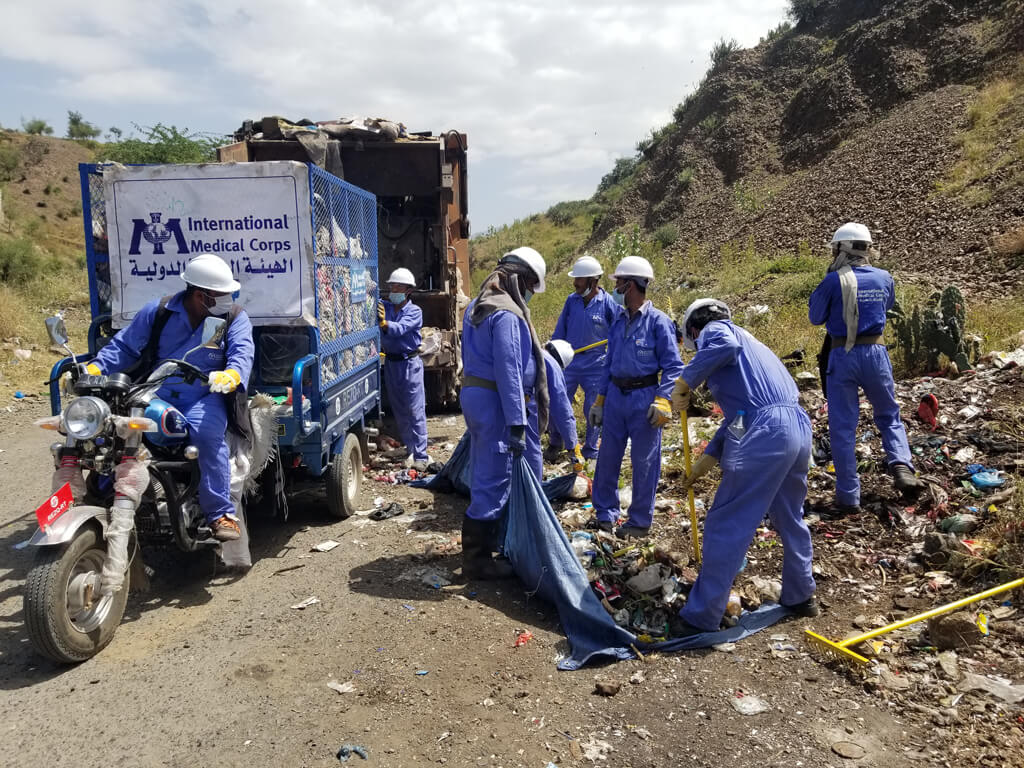 Together, they collected an estimated 12 tons of garbage. Our teams set up new garbage collection points, and the local authorities provided garbage trucks and bulldozers to collect the waste. The CHVs played a vital role in motivating the community to participate in the campaigns.
Training Goes Hand-in-Hand with WASH Activities
Training has always been the cornerstone of our work, providing communities with the necessary skills and knowledge to become self-reliant. Our WASH staff has trained hundreds of CHVs on personal health and environmental hygiene—who, in turn, train communities. The CHVs organize awareness sessions and campaigns from time to time on various WASH-related topics, including handwashing, disease prevention, COVID-19 vaccination, household water treatment and safe waste disposal.
Ta'iziyah district, located in the southwest of the country just north of the city of Taiz, has limited water supply sources, and a high rate of acute malnutrition, cholera and AWD. The WASH team selected and trained 40 CHVs from IDP camps and host communities in the area, based on their education and volunteering experience. Since their training, the CHVs have gone on to educate more than 23,000 people about health and hygiene.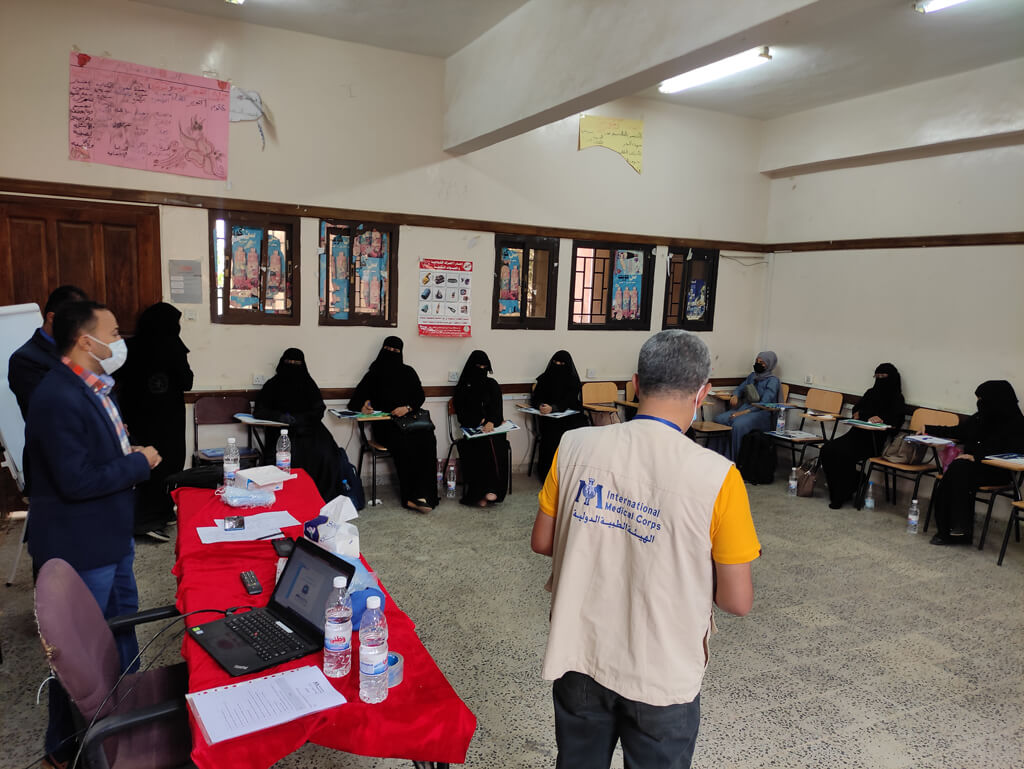 The WASH team also visits schools to educate children about healthy habits. For example, on Global Handwashing Day last year, the team members conducted an awareness session for the students of Maeen school in Al Qafr. Our staff taught the students—most of whom belong to low-income families and lack health and hygiene education—correct handwashing techniques, and explained why washing hands with soap was essential, especially after using the toilet. "By providing such indispensable knowledge of handwashing, International Medical Corps has changed the students' lives for the better," says School Director Saeed Abdullah Sharafat.
Providing WASH services in Yemen has its challenges. Our teams must navigate strict security protocols, brave extreme weather conditions and travel long distances—sometimes on foot—in difficult terrain to support communities. "Many factors slow down our response," says Ahmad. "Lack of funding, limited access to remote locations, disruption in the supply chain due to security restrictions and fuel shortages all affect our teams' work."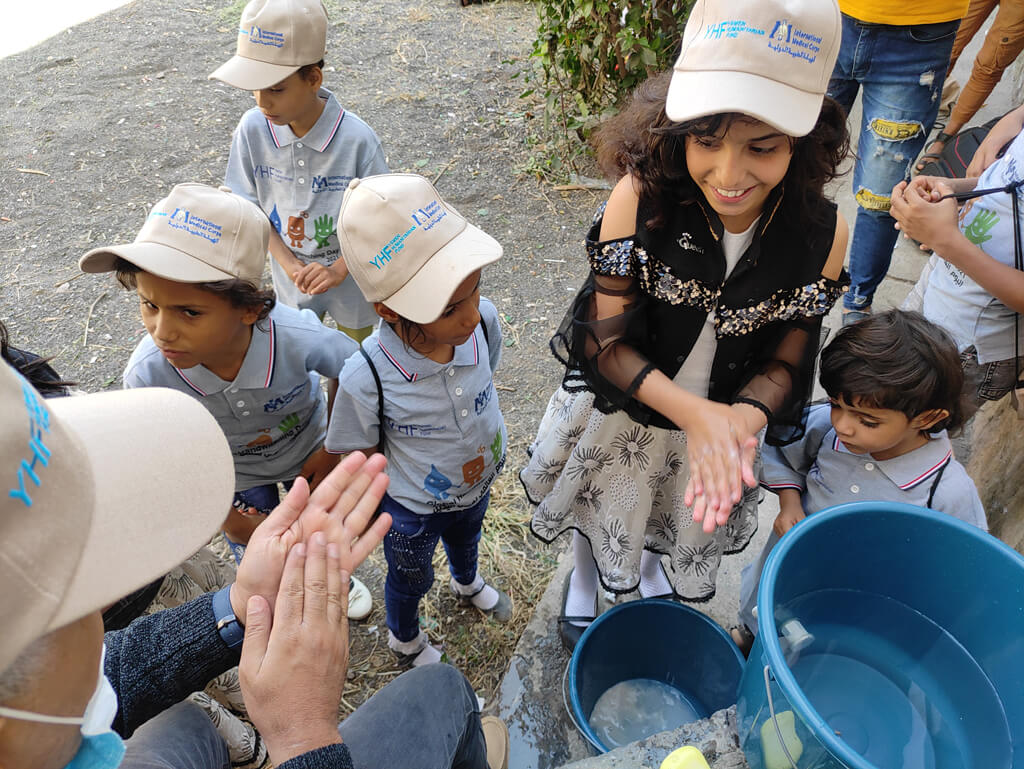 Despite the challenges, the WASH team continues to support the most vulnerable communities in Yemen. These communities have lost too much for almost a decade—but we are working hard to ensure that they don't lose the most important thing of all: hope.
Learn more about our lifesaving work in Yemen.